Learning Rants, Raves, and Reflections: A Collection of Passionate and Professional Perspectives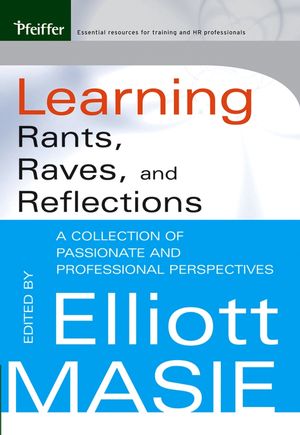 Learning Rants, Raves, and Reflections: A Collection of Passionate and Professional Perspectives
ISBN: 978-0-787-97302-5 August 2005 Pfeiffer 336 Pages
Description
Learning Rants, Raves, and Reflections offers a unique collection of passionate, provocative, and personal stories that show how technology is transforming how we learn today and reveals what we can expect in the future. Written to be highly accessible, this non-technological book about technology provides a general overview of the current world of e-learning and includes real-life case studies, actual examples from organizations, and valuable lessons learned. Learning Rants, Raves, and Reflections also examines the promise and failures e-learning and the evolving tools that are changing the face of training and education. Edited by industry leader Elliott Masie, the book includes seventeen passionate and personal perspectives from today's most respected learning experts. These learning snapshots reflect the current and future state of the industry. Throughout the book, these expert contributors rant (tell of their experiences when learning was thwarted), rave (recount times when learning was enjoyable and successful), and reflect (thoughtfully explore the nature of learning and the learner).
Introduction: Getting the Most from This Resource.
Learning Rants, Raves, and Reflections: A Personal Essay (Elliott Masie).
Part One: Here, Now . . . or Arriving on the Scene Very Soon.
Operational Excellence and Next Generation Blended Learning (David Metcalf).
Dining with the Executives: Doing the Right Kind of Training That Will Get You a Seat at the Table (Beth Thomas).
The New Social Contract (Murry Christensen).
Are You a Vendor or a Partner? (Scott Sutker).
We Thought We Could, We Think We Can, and Lessons Along the Way (Larry Israelite).
Messing with the Primal Forces of Nature: Transforming Learning (Lance Dublin).
The Blue Pill or the Red Pill? (Mark Oehlert).
People Architecture: A Holistic Approach to Building, Maintaining, and Expanding Your Learning Infrastructure (Vicki Cerda).
Part Two: In Practice Perspectives. . .The Art of Organizational Implementations.
Grassroots Corporate e-Learning Collaboration Works! (Carol J. Friday).
Learning in an On-Demand World (Nancy DeViney).
A Journey of e-Learning Efforts (David Barton).
Going Global at McDonald's with e-Learning (Mike Hendon).
Simulation at the Secret Service: As Real as It Gets (Paul L. Nenninger).
It's in the Air: The Move to m-Learning (Judy Brown).
Part Three: Preparing Ourselves, Our People, and Our Organizations for the Future.
Learning in the Bright Air: The Learning Technology Trends of 2015 (Sam S. Adkins).
Into the Future of meLearning: Every One Learning . . .Imagine If the Impossible Isn't! (Wayne Hodgins).
About the Editor.
About the Authors.
Index.
Pfeiffer Publications Guide.