Learning Social Media Marketing: A Video Introduction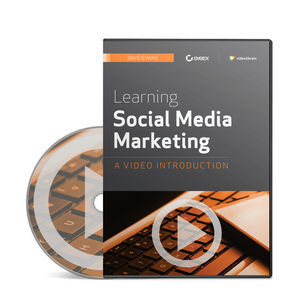 Learning Social Media Marketing: A Video Introduction
ISBN: 978-1-118-46606-3
Nov 2012
Product not available for purchase
Description
Learn the essentials of social media marketing with this 8-hour, self-paced video training software
Social media marketing is an essential tool for today's businesses. This economical, professionally produced video course will help you quickly grasp essential concepts and employ the latest social media marketing tactics, preparing you to take advantage of the newest techniques. Eight hours of focused instruction cover the various platforms available, how to craft a campaign and build social networks, advice on leveraging different types of content, tips on monitoring conversations, and how to measure the results of your efforts.
Features an easy-to-use interface with custom bookmarks and downloadable tutorial files
Provides hands-on exercises that help you understand the concepts and gain confidence
Covers the different platforms, crafting the campaign, building social networks, leveraging content, monitoring conversations, and measuring results
Videos can be viewed on a PC or laptop, a smartphone, and a tablet
Includes access to a streaming version of the videos that you can view from any computer with an internet connection
Learning Social Media Marketing: A Video Introduction is an efficient, cost-effective way to learn about the hottest topic in marketing and start putting social media to work for you.
System Requirements:
Display resolution of 1024x768 or higher
Pentium 4, 2.6GHz or higher, or Apple Mac G5
512MB RAM
Chapter 1: Introduction to Social Media Marketing
Chapter 2: Operations and Marketing: The New Partnership
Chapter 3: Social Media and Outreach
Chapter 4: Social Content
Chapter 5: Social Platforms
Chapter 6: Social Interactions
Chapter 7: Social Business
Chapter 8: Engagement and Advocacy
Chapter 9: Building a Cross-Functional Team
Chapter 10: Who Is Your Target?
Chapter 11: Social Analytics
Chapter 12: Writing Your Plan
Chapter
Page
Details
Date
Print Run
3, 11
Several links open the wrong videos
The link for 3.2 "Microblogs and Advocacy" opens 3.5 "Fishing Where the Fish Are"
The link for 3.3 "Being Social" opens 3.2 "Microblogs and Advocacy"
The link for 3.4 "Social Media Press Releases" opens 3.3 "Being Social"
The link for 3.5 "Fishing Where the Fish Are" opens 3.4 "Social Media Press Releases"
The links for 11.2 and 11.3 are reversed, so that the link for 11.2 "Social Measurements and Data" opens 11.3 "Using Social Listeners" and vice versa.
4/24/13

---