Learning and Motivation in the Postsecondary Classroom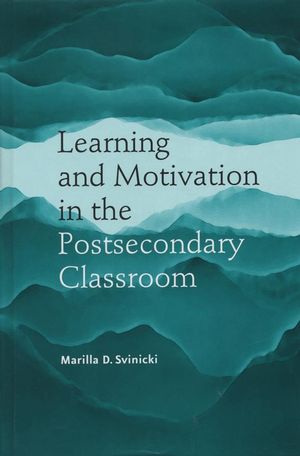 Learning and Motivation in the Postsecondary Classroom
ISBN: 978-1-882-98259-2
Mar 2004, Jossey-Bass
280 pages
Description
While the annals of educational psychology and scholarship of learning theory are vast, this book distills the most important material that the higher education faculty need, translating it into clear language, and rendering from it examples that can be readily applied in the college classroom. Understanding theory can enrich one's own teaching by increasing efficiency and effectiveness of both the instructor and the student, promoting creativity, encouraging self-reflection and professional development, and advancing classroom research. Finally, a good grounding in theory can help faculty navigate when a student is having difficulty.

This clearly written book outlines the learning theories: cognitive, concept learning, social learning, and constructivist, as well as the motivation theories: expectancy value, attribution, achievement goal orientation, and self-determination. It then delves deeper into each one, showing how to develop rich, meaningful instruction so that students master basic information and move into deeper levels of learning.
Dedication.
About the Author.
Preface.
1 My Attempt to Motivate You to Learn About Learning.
2 Helping Students Learn the Content.
3 Helping Students Understand.
4 Helping Students Develop Skills, Including Intellectual Skills.
5 Helping Students Retain and Use What They've Learned in Other Settings.
6 Helping Students Help Themselves.
7 Motivating Students to Learn.
8 What to Do About Individual Differences in Learning.
9 Ptting It All Together.
Appendix: The Theories in a Nutshell.
Bibliography.
Index.
Author Marilla D. Svinicki writes that she intends Learning and Motivation in the Postsecondary Classroom to function as a practical resource for postsecondary instructors to help them better understand how students learn and what difficulties students face in trying to master material. Svinicki, who has a PhD in Psychology and specializes in how learning and motivation are translated into teaching practice, also states that she hopes the book will serve as a bridge between the theoretical community of educational psychology and the college classroom.
Toward this end, she organizes Learning almost like a handbook. Chapters are arranged in a straightforward, easily accessible manner, each unit building on information presented. She begins with an explanation of cognitive learning theory and how instructors can gear lessons to assist students with mastering basic information. She then goes on to discuss how instructors may support students to deeper levels of understanding and involvement with the material. She also makes a point that material is only useful to students when it can be applied outside the classroom and offers a chapter related to community and service-oriented learning.
Additionally, Svinicki addresses new approaches to higher education beyond traditional pedagogical approaches and recommends strategies to make students responsible and independent ­ what she calls "self-regulating learners." She concludes the book with ways instructors can design material to address individual learning styles.
While Svinicki succeeds in her overall objectives, one inherent drawback in this style of book regarding application of educational theories in the classroom is that it is a discussion of these theories rather than a direct application of them. She offers examples and suggestions, but the book would be more practical in a "hands-on," interactive environment such as a workshop or retreat where instructors would be able to roll play, practice, exchange ideas and information. The text would also make an excellent supplement to an education course geared to majors specializing in secondary education. Svinicki offers an easy to follow, practical road map for instructors in their quest to facilitate a classroom of students with varying levels of interest and capability.
–James Driggers, UNC Asheville (UNC's Effective Teaching Website, June 2004)