Learning in Adulthood: A Comprehensive Guide, 3rd Edition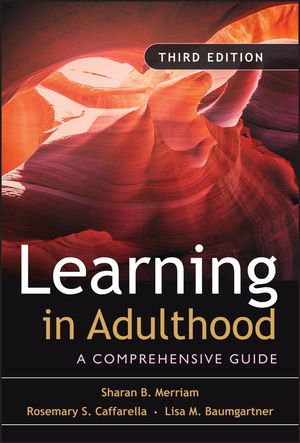 Learning in Adulthood: A Comprehensive Guide, 3rd Edition
ISBN: 978-0-470-22922-4
Mar 2012, Jossey-Bass
560 pages
Description
In this updated landmark book, the authors have gathered the seminal work and most current thinking on adult learning into one volume. Learning in Adulthood addresses a wide range of topics including: Who are adult learners? How do adults learn? Why are adults involved in learning activities? How does the social context shape the learning that adults are engaged in? How does aging affect learning ability?
Preface.
The Authors.
PART ONE: ADULT LEARNING IN CONTEMPORARY SOCIETY.
1 The Social Context of Adult Learning.
2 Learning Environments and Learning Concepts.
3 Adult Learners: Who Participates and Why.
PART TWO: ADULT LEARNING THEORY AND MODELS.
4 Knowles's Andragogy, and Models of Adult Learning by McClusky, Illeris, and Jarvis.
5 Self-Directed Learning.
6 Transformational Learning.
7 Experience and Learning.
PART THREE: NEWER APPROACHES TO ADULT LEARNING.
8 Embodied, Spiritual, and Narrative Learning.
9 Learning and Knowing: Non-Western Perspectives.
10 Critical Theory, Postmodern, and Feminist Perspectives.
PART FOUR: LEARNING AND DEVELOPMENT.
11 Traditional Learning Theories.
12 Adult Development.
13 Cognitive Development in Adulthood.
14 Intelligence and Aging.
15 Memory, Cognition, and the Brain.
16 Reflections on Learning in Adulthood.
References.
Name Index.
Subject Index.