Learning in Real Time: Synchronous Teaching and Learning Online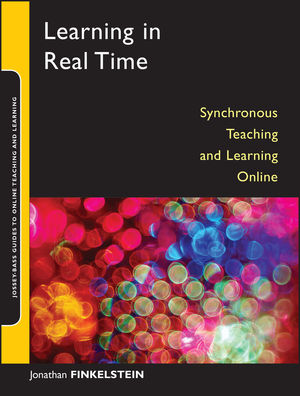 Learning in Real Time: Synchronous Teaching and Learning Online
ISBN: 978-0-470-59662-3 October 2009 Jossey-Bass 176 Pages
Description
Learning in Real Time is a concise and practical resource for education professionals teaching live and online or those wanting to humanize and improve interaction in their online courses by adding a synchronous learning component. The book offers keen insight into the world of synchronous learning tools, guides instructors in evaluating how and when to use them, and illustrates how educators can develop their own strategies and styles in implementing such tools to improve online learning.
Preface.
About the Author.
1 Learning, Live Online.
Synchronous Interaction Across the Learning Continuum.
Needs Served by Synchronous Interaction.
The Synchronous Compact.
Indicators for Real-Time Online Learning.
Learner Skills Developed and Assessed Live Online.
2 Real-Time Learning as Good Practice.
Contact Between Students and Faculty.
Cooperation Among Students.
Active Learning.
Prompt Feedback.
Time on Task.
High Expectations.
Diverse Talents and Ways of Learning.
3 Tools for Learning in Real Time.
Text-Based Tools.
Live Audio and Video Tools.
Content, Display, and Other Interactive Tools.
4 Real-Time Learning Venues.
A Moving Target.
Chat Rooms.
Instant Messenger.
Multi-user Virtual Environments.
Virtual Reference, Tutoring, and Help Desks.
Virtual Offices and Virtual Meeting Rooms.
Virtual Classrooms.
Interactive Webcasting.
Webcasting or Broadcasting.
In-class Online Aids.
5 Facilitating Learning in Real Time.
Be a Good Host.
Inflate a Bubble of Concentration.
Be a Ringmaster.
Use Virtual Body Language.
Rely on Others: You Are Not Alone.
Use the Synchronous Dashboard.
Be Prepared and Manage Crises.
6 Real-Time Online Learning Activities.
Magnetic Brainstorms.
Stone Soup.
Solo Fishbowls.
Paired Partners or Dyads.
Cracker Barrels.
Guest Appearances and Co-hosts.
Live Blogging and Cclogging.
Expeditions and Virtual Training Labs.
Multiple Venue Productions or Presentations.
Additional Resources.
Further Reading and Related Web Sites.
Ten Common Misconceptions About Synchronous Instruction.
Scheduling Synchronous Interaction.
Buyer's Guide: Questions to Ask When Considering a Synchronous Tool.
References.
Index.
""Finkelstein presents skills needed by online facilitators…"" (PsycCritiques, April 11 2007)