Learning to Fly: Practical Knowledge Management from Leading and Learning Organizations, with free online content, 2nd Edition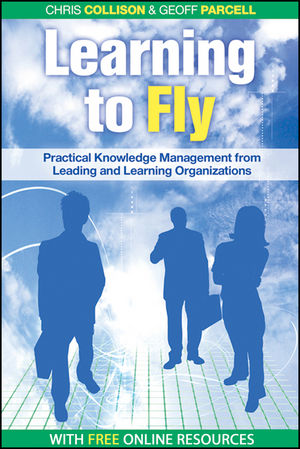 Learning to Fly: Practical Knowledge Management from Leading and Learning Organizations, with free online content, 2nd Edition
ISBN: 978-1-907-31212-0
Oct 2009, Capstone
332 pages
Product not available for purchase
Description
Today, no one is, nor can be, an expert in everything. In every challenge, it is easy to feel that you don't know enough to keep up with the accelerating pace of change inside our organisations, let alone the world outside. Start with the assumption that somebody somewhere has already done what you are trying to do. How can you find out whom, and learn from them? Learning to Fly shows exactly how to put knowledge management theory into practice, sharing the tools used and the experience and insights gained by two leading practitioners.

Completely updated for the second edition, Learning to Fly shares the authors' experiences from BP and other leading knowledge organisations.and incorporates new material on implementation and best practice, including free online resources.

"Chris Collison and Geoff Parcell show how new ideas and tools are making working and learning inseparable."
—Peter Senge
Preface.
Acknowledgements.
PART I: OVERVIEW.
1. Setting the Context.
2. What is Knowledge Management?
3. The Holistic Model – It's More Than the Sum of the Parts.
4. Getting the Environment Right.
5. Getting Started – Just Do It.
PART II: TOOLS AND TECHNIQUES. 
6. Connecting Sharers with Learners – Using Self-Assessment.
7. Learning From Your Peers – Somebody Has Already Done It.
8. Learning Whilst Doing – Time to Reflect.
9. Learning After Doing – When it's All Over.
10. Finding the Right People – If Only I Knew Who.
11. Networking and Communities of Practice.
12. Leveraging What We Have Learned – Capturing Knowledge.
PART III: TODAY AND TOMORROW.
13. Embedding it in the Organization – Preparing To Let Go.
14. Review of the Book – What Did We Set Out To Do?
Appendix A.
Appendix B.
Resources 1.
Resources 2: One Page Resources.
Index.