Learning to Program with Visual Basic, 2nd Edition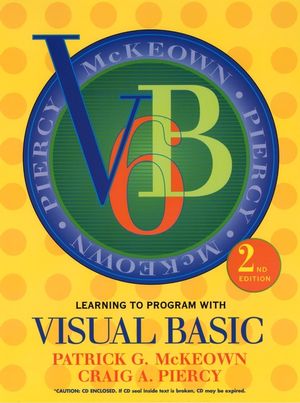 Learning to Program with Visual Basic, 2nd Edition
ISBN: 978-0-471-41862-7
Aug 2001
608 pages
Description
This text is for Intro to Programming courses in CIS/MIS departments that use Visual Basic 6.0. Visual Basic has begun to replace COBOL as an introductory programming language for CIS/MIS students due to its ease of use and the near universal move to the Windows operating system. McKeown and Piercy's text addresses the need for a text that offers an adequate balance between the demonstration of the Visual Basic interface and teaching programming logic that the student must know regardless of the language. The goal of this book is "to achieve a balance between demonstrating the power and excitement of Visual Basic and the need to teach traditional programming logic."
1. An Introduction to Programming and Visual Basic.
2. Using Visual Basic to Create a First Project.
3. Variables, Assignment Statements, and Arithmetic.
4. The Selection Process in Visual Basic.
5. The Repetition Process in Visual Basic.
6. Working with Arrays in Visual Basic.
7. Using Functions, Subs, and Modules.
8. Security, Menus, and Files.
9. Introduction to Working with Databases in Visual Basic.
10. Advanced Database Operations.
11. Using Visual Basic to Create Graphics.
12. User-defined Data Types, Direct Access Files, and Object Classes.
13. Introduction to VBScript.
Index.
More homework problems in every chapter. The existing problems have been revised as necessary.
New Chapter on VB Script
More coverage of Databases-Chapter 9 has been separated and expanded into two chapters (Chapter 9--Intro Databases & Chapter 10-Advanced Databases)
Complete code for examples now included at end of chapters
Three letter prefixes now used for variables
More debugging tips included throughout the chapters as appropriate
Teaches introductory programming concepts rather than only the "glitz" of VB.
Teaches programming logic without exposing the student to an excessive amount of VB controls. Benefit: Students can transfer what they learned to other programming languages.
A running case is developed throughout the text which helps students to apply what they are learning. The running case helps students understand how an actual information system is created for a situation with which they are familiar (a video store).
"It's Your Turn" (IYT) exercises help students complete the same example as is discussed in the test. The IYT exercises force the student to keep up and when they complete them for a chapter, they have a working VB project. If the student completes these IYT's throughout the entire book, at the end, they will have a fairly sophisticated information system completed. The IYT's are linked to the code tables (which show all of the code for every program) and to the screen capture figures to help the student do the work.
All code is shown in code tables so students can create the same examples as discussed in the text by reproducing the code shown in code tables.
Useful web site containing extra cases, sample code, and other features for students and professors.