Left and Right: The Significance of a Political Distinction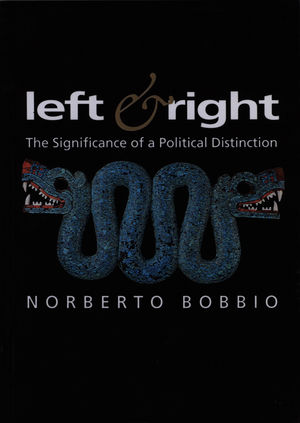 Left and Right: The Significance of a Political Distinction
ISBN: 978-1-509-51413-7 June 2016 Polity 160 Pages
Product not available for purchase
Description
Following the collapse of communism and the decline of Marxism, some commentators have claimed that we have reached the 'end of history' and that the distinction between Left and Right can be forgotten.

In this book - which was a tremendous success in Italy - Norberto Bobbio challenges these views, arguing that the fundamental political distinction between Left and Right, which has shaped the two centuries since the French Revolution, has continuing relevance today.

Bobbio explores the grounds of this elusive distinction and argues that Left and Right are ultimately divided by different attitudes to equality. He carefully defines the nature of equality and inequality in relative rather than absolute terms.

Left and Right is a timely and persuasively argued account of the basic parameters of political action and debate in the modern world - parameters which have remained constant despite the pace of social change. The book will be widely read and, as in Italy, it will have an impact far beyond the academic domain.
Translator's Introduction.
Preface to the First Italian Edition.
A Challenge to the Distinction.
Extremists and Moderates.
The Left/Right Distinction Survives.
In Search of the Criterion which Governs the Distinction.
Other Criteria.
Equality and Inequality.
Freedom and Authoritarianism.
The Polar Star.
A Reply to Critics (1995).
Notes.
'Are contemporary political issues best understood in left-right terms? With his customary lucidity and wisdom, Professor Bobbio, Italy's most distinguished political thinker explains the persistence and defends the relevance of the distinction in the face of "the great problem of inequality between people and between the peoples of this world" in a short work that is far-reaching, simple and deep.'
Steven Lukes, European University Institute

'Now, in Norberto Bobbio's newly translated book, we have the most ingenious and forceful defence of the traditional categories of left and right for many years, and one that will set the standard of argument on the subject for the foreseeable future ... The history of his book illustrates some of the paradoxes of recent political discourse ... simple, lucid ... scrupulous and rigorous analysis.' John Gray, The Times Higher Education Supplement
* Bobbio is one of the foremost political thinkers in Europe.
* This book was an astonishing bestseller in Italy. It sold 250,000 copies in Italy since 1994, and it has sold over 300,000 copies in Europe overall. It has been translated into 14 languages.
* It's a timely defence of the distinction between 'left' and 'right' in politics.