Legal Aspects of Mental Capacity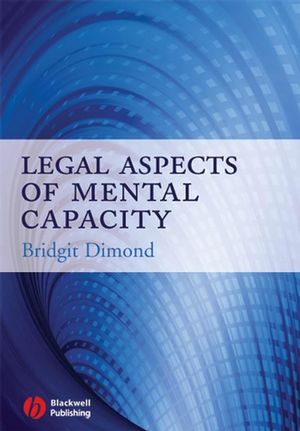 Legal Aspects of Mental Capacity
ISBN: 978-0-470-69808-2
Apr 2008, Wiley-Blackwell
448 pages
Description
The Mental Capacity Act (2005) governs decision-making processes on behalf of adults who are unable to give informed consent, whether they lose mental capacity at some point in their lives due to illness or injury or where the incapacitating condition has been present since birth.


Legal Aspects of Mental Capacity will assist practitioners in understanding the basic provisions of the Act and how it applies to their professional responsibilities. It is also intended to be of assistance to the many carers who find themselves in the position of needing to make decisions on behalf of mentally incapacitated relatives and friends. Each chapter sets out the basis provisions, followed by a series of scenarios dealing with practical concerns which are discussed in the light of the new legislation.


• A practical guide to the provisions of the Mental Capacity Act 2005
• Easily accessible for those with no legal background
• Includes scenarios illustrating different legal points
• Explores the background to the legislation, including determination of capacity and the definition of best interests


Legal Aspects of Mental Capacity is an essential resource for all healthcare and social services professionals, patient services managers and carers working with those who lack the capacity to make their own decisions.
Chapter 1 Introduction: Anatomy of the Mental Capacity Act.
and its Terms.
Chapter 2 Background to the Legal System and the Mental.
Capacity Act.
Chapter 3 Human Rights and Statutory Principles for.
Governing Decision Making.
Chapter 4 Definition of Mental Capacity.
Chapter 5 Making Decisions in the Best Interests of Others.
Scenarios B Making Decisions in the Best Interests of Others.
Chapter 6 Lasting Powers of Attorney.
Chapter 7 Court of Protection, Court Appointed Deputies,.
the Office of Public Guardian and Visitors.
Chapter 8 Independent Mental Capacity Advocates.
Chapter 9 Advance Decisions.
Chapter 10 Research.
Chapter 11 Protection of Vulnerable Adults and Accountability.
Chapter 12 Children and Young Persons.
Chapter 13 Mental Capacity and Mental Disorder.
Chapter 14 Organ and Tissue Removal, Storage and Use.
Chapter 15 The Informal Carer.
Chapter 16 Wales.
Chapter 17 Implementation, Resources and Code of Practice.
Chapter 18 Postscript .
Websites .
Recommended further reading .
Index
?In Dimond's
Legal Aspects of Mental Capacity
, we find a well-crafted reference book that goes beyond mere presentation of the law and relevant regulations. In fact, the real value of the text is in its illustrative examples and scenarios.? (
Metapsychology
, September 2009)
"Invaluable in negotiating the legal minefield that surrounds the complicated issue of mental capacity."
Mental Health Practice
Legal Aspects of Mental Capacity By Bridgit Dimond
Legal Aspects of Mental Capacity by Bridgit Dimond was published in November 2007. Significant changes have been taking place since that time and are brought to your attention below under the headings 'Accessing information' and 'Significant development and changes'.
Accessing information
Updates on mental capacity laws, rules and guidance can be obtained from the Ministry of Justice website (which has taken over from the Department of Constitutional Affairs) www.justice.gov.uk
The Office of Public Guardian also provides booklets, guidance, forms and information on Lasting Powers of Attorney, the OPG and Court of Protection Service and other aspects of the Mental Capacity Act (MCA). It also provides copies of the MCA UPDATE service booklets. Its website can be found at www.publicguardian.gov.uk
The Department of Health (DH) also provides information and guidance on the MCA including an explanatory memorandum to the deprivation of liberty safeguards supplement to the MCA Code of Practice. The DH provides a direct link to the Independent Mental Capacity Advocate Service, including a list of IMCA providers. The DH also has published 5 sets of training materials on the MCA covering a core set, a mental health set, a residential accommodation set, a community care and primary care set and acute hospitals set. They can be downloaded from the DH website at www.dh.gov.uk
These websites should be searched regularly for updates.
To obtain by email your personal copy of the MCAUPDATE, email mcaupdate@guardianship.gsi.gov.uk
The National Research Ethics Service has issued supporting guidance and forms for applicants regarding applications for approval of research under sections 30 and 34 of the Act. The guidance can be accessed on its website at http://www.nres.uk/applicants/index.htm
Significant developments and changes
On October 2007 the new Court of Protection, the new Office of Public Guardian and the new Independent Mental Capacity Advocate Service in Wales were launched. On 1 October 2007 the Mental Capacity Implementation Programme handed over its operation to the Office of Public Guardian and ceased to exist.
The Mental Capacity (Deprivation of Liberty Safeguards: Standards Authorisations, Assessments and Ordinary Residence) Regulations SI 2008 No 1858 come into force on 3 November 2008. They can be accessed on the Office of Public Sector Information website at www.opsi.gov.uk
Code of Practice: Supplement on deprivation of liberty safeguards (The Bournewood Safeguards)
A Mental Capacity Act deprivation of liberty safeguards Code of Practice was laid before Parliament in June 2008 as a supplement to the main MCA Code of Practice. The supplement is to come into force in April 2009.
Independent Mental Capacity Advocates
The first ever IMCA annual conference organised by the Action for Advocacy was held in London in April 2008 and was attended by over 200 IMCAs.
Office of Public Guardian annual report
This was published in August 2008 and showed widespread use of the MCA. Nearly 3 times more people have applied to register their LPA than in previous years; the number of applications to the Court of Protection for a finance or health and welfare decision have exceeded expectations; nearly three times more investigations into the actions of deputies and attorneys compared to last year and more than 50 applications have been made to the Court of Protection by the Public Guardian when there are concerns about a deputy or attorney.
Annual general meeting of the Public Guardian Board
The AGM is to take place on 7 October 2008 and is open to members of the public, but places are limited. Contact should be made with the Secretariat to the PGB as soon as possible by emailing publicguardianboard@publicguardian.gsi.gov.uk or by telephoning 020 7664 7235.
· Easily read by a non-legal readership
· Adopts a practical approach
· Examines procedures, processes and protocols
· Includes scenarios illustrating different legal points
· Includes boxes to highlight cases, situations and statutory provisions
· Considers specific client/patient groups e.g. the elderly mentally infirm