Legal Aspects of Occupational Therapy, 2nd Edition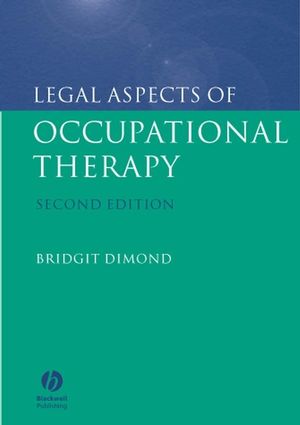 Legal Aspects of Occupational Therapy, 2nd Edition
ISBN: 978-1-405-15005-7
Apr 2008, Wiley-Blackwell
440 pages
Description
Since publication of the first edition in 1996, this book has established itself as an essential text for occupational therapists. It offers an understanding of the law relating to their practice, but is written to be accessible for those who have no prior legal knowledge. The text provides valuable information for occupational therapists employed in health and social services, as well as the law relevant to private practitioners.


The book includes chapters on all the main client groups and presents the relevant specialist law. Students and teachers of occupational therapy will find the chapters on professional registration, education, training and research of particular interest.


The second edition also provides an introduction to the complex organisational and legal developments which impact the work of the occupational therapist, including: the Human Rights Act; the Health and Social Care (Community Health and Standards) Act 2003; the concept of clinical governance and the role of the new Health Professions Council. It is a generous resource for the occupational therapy student, practitioner and service manager.
Foreword.
Preface to second edition.
Preface to first edition.
Abbreviations.
Section A The legal and ethical context.
Chapter 1 Occupational Therapy.
Chapter 2 The Legal system.
Section B Professional Issues.
Chapter 3 Registration and the Role of the Statutory Bodies.
Chapter 4 Professional Conduct Proceedings.
Chapter 5 Education and Training.
Section C Client Centred Care.
Chapter 6 Rights of Clients.
Chapter 7 Consent and information giving.
Chapter 8 Confidentiality and Data Protection.
Chapter 9 Access to health records.
Section D Accountability.
Chapter 10 Negligence.
Chapter 11 Health and Safety.
Chapter 12 Record keeping, statements and report writing.
Chapter 13 Statements, reports and giving evidence in court.
Chapter 14 Complaints and Patient representation.
Chapter 15 Equipment.
Chapter 16 Transport.
Section E Management areas.
Chapter 17 Statutory organisation of the health and social services.
Chapter 18 Community Care and the rights of the disabled.
Chapter 19 Employment law.
Section F Specialist Client Groups.
Chapter 20 Physical Disabilities.
Chapter 21 Mentally ill adults.
Chapter 22 Learning Disabilities.
Chapter 23 Children.
Chapter 24 Elderly.
Section G Specialist areas.
Chapter 25 Teaching and research.
Chapter 26 Complementary Medicine.
Chapter 27 Private Practice.
Chapter 28 Future.
Appendix: Schedule 1 of the Human Rights Act 1998.
Glossary.
Further Reading.
Table of Cases.
Table of Statues.
Index
'
The breadth and depth of this second edition make it an essential and invaluable resource to occupational therapists in all fields.'
This is certainly one reference book that all practitioners will welcome.'

British Journal of Occupational Therapy

Review Comments on the First Edition
The profession has been waiting for a book that addressed the important issue of law and practice. This book clearly fulfils the need and should be an essential purchase and point of reference for all occupational therapists and students.
British Journal of Occupational Therapy
· Features questions and exercises to assess and stimulate knowledge
· Includes a helpful glossary of terms
· Case discussions and sample situations offer clinical scenarios and provide practical insights
· New format