Legal Aspects of Radiography and Radiology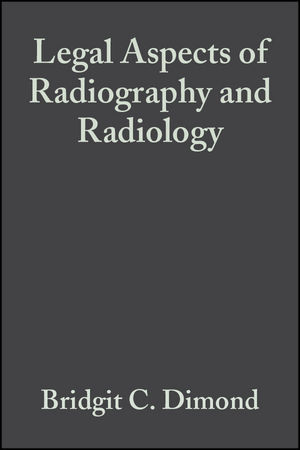 Legal Aspects of Radiography and Radiology
ISBN: 978-0-470-69046-8 April 2008 Wiley-Blackwell 416 Pages
Description
Practical and jargon-free, this book is aimed at the non-lawyer and includes an extensive glossary of terms. It emphasises the legal issues encountered by those working in diagnostic radiography, radiotherapy and radiology and includes examples of legal dilemmas taken from these disciplines as well as exploring current issues.
Foreword by Sandy Yule, OBE.
Preface.
Acknowledgements.
Abbreviations.
SECTION A. THE LEGAL CONTEXT.
1. Introduction.
2. The Legal System.
SECTION B. PATIENT-CENTRED CARE.
3. Rights of the Patient.
4. Consent and Information Giving.
5. The Duty of Confidentiality.
6. Data Protection and Access to Records.
7. Mentally Incapacitated Adults.
8. Legal Issues Relating to Children.
9. Pregnant Patients.
10. Death and Dying.
SECTION C. PROFESSIONAL ISSUES.
11. Professional Registration and Statutory Controls.
12. Professional Standards and Misconduct.
13. Education and Training.
SECTION D. ACCOUNTABILITY IN THE CIVIL AND CRIMINAL COURTS.
14. Negligence.
15. Health and Safety.
16. Radiological Regulation.
17. Legal Issues Relating to Equipment.
18. Records, Statements, Reports and Evidence in Court.
19. Handling Complaints.
20. Medicinal Products.
SECTION E. MANAGEMENT AREAS.
21. Statutory Organisation of the NHS.
22. Employment Law.
23. Departmental Management.
SECTION F. SPECIALIST AREAS.
24. PACS and Teleradiology.
25. Dental X-rays.
26. Complementary Therapies.
27. Scope of Professional Practice and the Expanded Role.
28. Legal Aspects of Research.
29. The Future.
Table of Cases.
Table of Statutes.
Glossary.
Further Reading.
Index.