Leo Melamed on The Markets: Twenty Years of Financial History as Seen by the Man Who Revolutionized the Markets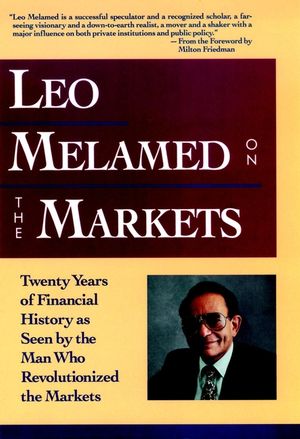 Leo Melamed on The Markets: Twenty Years of Financial History as Seen by the Man Who Revolutionized the Markets
ISBN: 978-0-471-57524-5
Dec 1992
304 pages
Product not available for purchase
Description
A riveting inside look at the turbulent, controversial world of the futures markets through the eyes of the man who made them what they are today. Melamed relates how he helped create the futures markets and the changes they wrought in the financial world of the 1980s, the importance of futures markets to the global economy, the debate over them in the wake of the 1987 crash and the future of electronic global markets.
Partial table of contents:

THE SOUL OF THE TRADER.

Be a Lover, Not a Fighter.

The Art of Futures Trading.

Our American Free Markets.

THE BIRTH OF A MARKET--FINANCIAL FUTURES.

A Futures Market in Currencies.

The Future of Futures.

Homecoming.

FUTURES--THEIR ROLE AND POTENTIAL.

The Futures of Chicago.

The Birth of the CFTC.

The Coveted Scapegoat.

THE 1987 CRASH.

A Call to Arms.

Embracing Reality.

The Jaws of Victory.

GLOBALIZATION AND THE NEW WORLD ORDER.

GLOBEX and World Markets.

The New World Order.

Protectionism--The Scourge of Markets.

Index.