Lesbian Configurations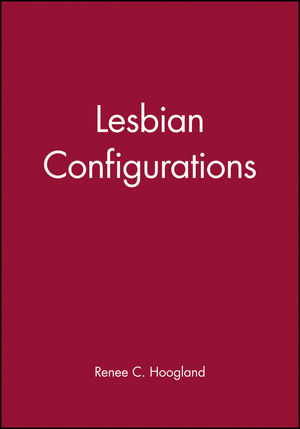 Lesbian Configurations
ISBN: 978-0-745-61162-4
Jan 1997, Polity
184 pages
Description
This book forms an introduction to the rapidly growing field of lesbian studies. Steering a middle course between 'high theory' and detailed textual analysis, it provides both those new to the field and more experienced readers in lesbian/gay and feminist scholarship with original insights into the contradictory meanings of lesbian sexuality in Western culture.

Exploring different cultural forms, including twentieth-century fiction and Hollywood cinema, Hoogland addresses topical theoretical questions concerning the shifting significance of lesbian sexuality as they arise from careful textual analyses. Among the examples discussed are Alice Walker's The Color Purple, Sylvia Plath's The Bell Jar, and the Hollywood thriller Basic Instinct. Guiding concerns are the interrelations between knowledge and desire, between sexuality and gender, and the violent operation of heterosexual ideologies. Adopting a psychoanalytical perspective, Hoogland concludes by critically interrogating feminism's ambivalent stakes in female same-sex desire.

Lesbian Configurations is both a valuable introduction to an expanding field and an original contribution to current debates.
Introduction.
1. Defining Differences: The Lavender Menace and The Color Purple. .
2. Basic Instinct: The Lesbian Spectre as Castrating Agent.
3. Impossible Subject Among Multiple Crossovers: Roman Polanski's Bitter Moon. 4. Sex/Textual Conflicts in The Bell Jar: Sylvia Plath's Doubling Negatives.
5. Queer Undercurrents: Disruptive Desire in Elizabeth Bowen's Friends and Relations. .
6. Fatal Attractions: Feminist Theory and the Lesbian Lure.
Epilogue.
Notes.
Bibliography.
Index.
'Lesbian Configurations
is at once a light-casting journey through some of the densest thickets in contemporary literary and psychoanalytic theory and a work of generous, energizing scholarship. These are bravura, resolute readings: intelligent, alert, often droll, and rich in insights about the paradoxical place of the lesbian in the modern imagination.'
Terry Castle, Stanford University
'renée hoogland's Lesbian Configurations is an engaging and lucid analysis of contemporary lesbian theories. Its intriguing readings of The Color Purple and The Bell Jar lead the way to a sophisticated and enlightening lesbian critical practice. Her astute analyses of contemporary film and other popular cultural texts demonstrate clever and useful strategies for lesbian reading.' Judith Roof, Indiana University

'The growing visibility of lesbian sexuality in mainstream western culture has been accompanied by a rapidly developing lesbian academic interest in tracing the cultural configurations of same-sex female desire, a project that situates lesbian scholarship and theoretical critique on the cutting edge of contemporary cultural theory. [This book is] a welcome addition to this dynamic, growing body of work.' Cultural Studies
* An excellent introduction to a rapidly growing field - Lesbian Studies.
* Provides a clear and engaging account of the contradictory meanings of lesbian sexuality in Western culture.
* It is both a valuable and original contribution to current debates concerned with lesbian studies.