Leslie Kish: Selected Papers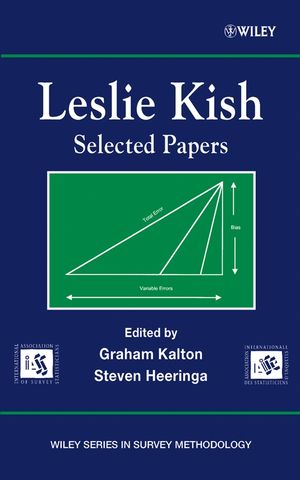 Leslie Kish: Selected Papers
ISBN: 978-0-471-26661-7
Apr 2003
368 pages
Description
Leslie Kish formulated, among other things, the "margin of error," an assessment of the accuracy of opinion polls. He was elected president of the American Statistical Association; and was a fellow of the American Academy of Arts and Sciences; the American Association for the Advancement of Science; and the Royal Statistical Society of England.  A co-founder of the Institute for Social Research at the University of Michigan and of the International Association of Survey Statisticians, Kish was at once a remarkable teacher, thinker, and leader in the field of survey statistics. This volume collects, for the first time, Kish's most important papers.
Foreword—Dr. Xavier Charoy, President IASS.
Preface—Rhea Kish.
ROLE OF PROBABILITY SAMPLING IN SCIENTIFIC RESEARCH.
The Hundred Years' Wars of Survey Sampling (1995).
Some Statistical Problems in Research Design (1959).
APPLIED SAMPLING METHODS.
A Procedure for Objective Respondent Selection Within the Household (1949).
Controlled Selection—A Technique in Probability Sampling (1950).
Sampling Organizations and Groups of Unequal Sizes (1965).
Retaining Units After Changing Strata and Probabilities (1971).
Multivariate and Multipurpose Stratification (1978).
ISSUES IN INFERENCE FROM SURVEY DATA.
Inference From Complex Samples (1974).
Methods for Design Effects (1995).
Weighting for Unequal Pi (1992).
NONSAMPLING ERRORS.
Response Errors in Estimating the Value of Homes (1954).
Studies of Interviewer Variance for Attitudinal Variables (1962).
DOMAIN ESTIMATION.
Multipurpose Sample Designs.
Postcensal Estimates for Local Areas (or Domains) (1980).
Cum ulating/Combining Population Surveys (1999).
PROFESSIONAL LEADERSHIP AND TRAINING.
Chance, Statistics and Statisticians (1978).
Developing Samplers for Developing Countries (1996).
References.
Index.
"…bringing together a lifetime of research and practice, this volume is both a fitting tribute…and a highly useful…compilation of insight into the art and science of survey statistics…" (
Zentralbaltt MATH
, June 2005)
"...collects, for the first time, the most important and influential papers by Leslie Kish...the editors have been immensely successful in bringing out this volume which will find a place on the bookshelf of every serious reader in the field." (Mathematical Reviews, 2004c)