Lessons for Life, Volume 1: Elementary Grades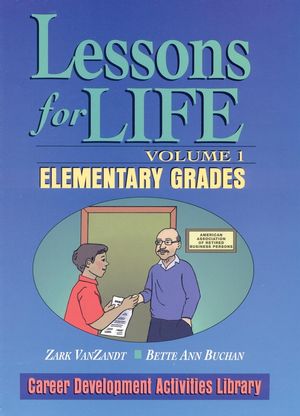 Lessons for Life, Volume 1: Elementary Grades
ISBN: 978-0-787-96701-7
Oct 1997, Jossey-Bass
256 pages
Description
Here is a career development curriculum packed with stimulating lessons and activities to help students develop the self-knowledge, interpersonal skills, and work habits they need for success in school, work and life, while learning how to make good decisions about their education, personal lives, and future careers. This book folds flat for easy photocopying of the lesson materials and includes 60 ready-to-use lessons with related activities and worksheets.
How to Use Lessons for Life.
"Life's Journey" as Metaphor.
Chapter One. Two Roads Diverged...: A Focus for the Lessons for Life Curriculum.
Chapter Two. The Lay of the Land: A Foundation for Understanding Lessons for Life.
Chapter Three. Planning the Trip: Practical Tips for Setting Things in Motion.
Chapter Four. In the Driver's Seat: Lessons to Promote Self-Knowledge.
Chapter Five. Nice Set 'o Wheels: Lessons to Help Students Examine Life Roles.
Chapter Six. Start Your Engines: Lessons to Promote Educational Development.
Chapter Seven. The Road Map: Lessons to Foster Career Exploration and Planning.
EPILOGUE.
A Look in the Rearview Mirror: Reflections on Lessons for Life.