Lessons in Grid Computing: The System Is a Mirror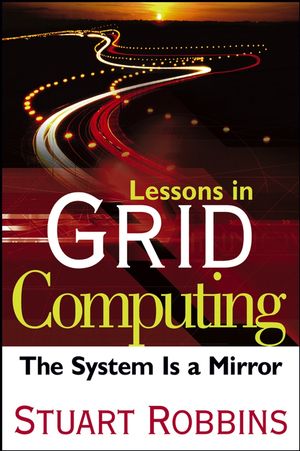 Lessons in Grid Computing: The System Is a Mirror
ISBN: 978-0-470-04750-7 October 2006 384 Pages
Description
""You should not overlook the potential genius in this concept.""
--Geoffrey Moore, consultant and author, Dealing with Darwin

""Since he first identified 'information systems as mirrors of the people who build them' for me, I have seen it operate in many ways. It is a fascinating idea, and a completely new way of thinking about technology.""
--Sean Moriarty, Chief Operating Officer, Ticketmaster

""This book makes for compelling reading--it's easy to become immersed in the stories, and the insights gradually grow in the reader's mind as they take root in the character's minds. This is quite a useful work. The ideas presented here could be quickly put to practical use in any organization.""
--Mohamed Muhsin, VP and CIO, The World Bank

A breakthrough exploration of information systems as mirrors of the people who build them.

Packed with truer-than-life stories, stimulating characters, and unique IT analysis, Lessons in Grid Computing finally declares:
* Our systems will not ""talk to each other"" if our people are not talking to each other
* We must transform ourselves to the same degree that we want to transform our systems
* To correct problems in our information systems, we must first address the problems between the people that build and support them

Discover how to adjust your management style to enable the next generation of technologies with the help of Lessons in Grid Computing.
Foreword by Geoffrey Moore.
Foreword by Thornton May.
Acknowledgments.
Chapter 1: The Prime Theorem
Information Systems Mirror the People that Build Them.
Chapter 2: Interfaces
How They Work and What Happens When They Are Broken.
Chapter 3: Relationship Management
We Can No Longer Manage the Systems as Single Nodes.
Chapter 4: Virtualization
A Natural Stage in the Maturity Cycle of Technologies
Chapter 5: Orchestration
Finding a Sensible Order amid too Many Complications to Count.
Chapter 6: Complexity
Databases, Passwords, Collaboration, Funding, Smashed Atoms, and a Professor.
Chapter 7: Distributed Resources
Two Types of Diffusion—Compute Resources and Human Capital.
Chapter 8: Flash Teams
Analysis of New Organizational Groups from Several Perspectives.
Chapter 9: Network as Narrative Form
Basic Building Blocks Connected to Create Various Structures.
Chapter 10: Identity
Finding the Needle in the Haystack and Giving It a Name.
Chapter 11: Organizational Architecture
How We Organize Ourselves Is as Important as What We Say and Do.
Chapter 12: (Theory of) Resonant Usability
Everything Is Moving to the Presentation Layer, Where Humans Interact.
Chapter 13: Turbulence
Creating Stability in the Face of Chaotic Disruption.
Chapter 14: Libraries
Two Lives, Two Windows, and the Search for Information.
Chapter 15: Abstraction
Lift Yourself above the Conflicting Details and Look for Similarity.
Chapter 16: Insubordination as an Asset
Why You Must Allow Employees to Disagree with Your Decisions.
Chapter 17: The Consortium
The Multisourced IT Organization and a Software Commons—Our Future.
Chapter 18: The Everysphere
An Example of Synchronous Events between "Unrelated" Objects.
Chapter 19: Q Narratives
Understand the Story and You Will Understand the Business Process.
Chapter 20: Leaving Flatland
To Adjust Somehow after Learning That Your World Has Another Dimension.
Chapter 21: We Are the Platform
Some Final Observations about the System and the Mirror.
Index.