Letter to D: A Love Story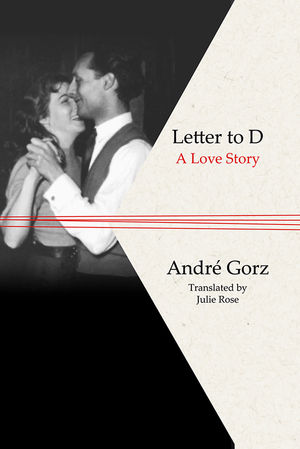 Letter to D: A Love Story
ISBN: 978-0-745-68090-3
Aug 2013, Polity
144 pages
Description
'You're 82 years old. You've shrunk six centimetres, you only weigh 45 kilos yet you're still beautiful, graceful and desirable' – so begins André Gorz's 'open love letter' to the woman he has lived with for 58 years and who lies dying next to him.

As one of France's leading post-war philosophers, André Gorz wrote many influential books, but nothing he wrote will be read as widely or remembered as long as this simple, passionate, beautiful letter to his dying wife.

In a bittersweet postscript a year after Letter to D was published, a note pinned to the door for the cleaning lady marked the final chapter in an extraordinary love story. André Gorz and his terminally ill wife, Dorine, were found lying peacefully side by side, having taken their lives together. They simply could not live without one another.

An international bestseller, Letter to D is the ultimate love story – and all the more poignant because it's true.
Letter to D
André Gorz
From the Translator
Notes for the Reader
""Gorz's writing here is painstaking in its honesty, utterly without sentimentality but full of genuine passion. 'Like the very best books,' writes the translator in her afterword, '
Letter to D
will break your heart.'""
London Review of Books
""That one 75-page missive could eclipse the seminal work of an intellectual who impressed even the great Jean-Paul Sartre says something about the power and resonance of this passionate and soul-searching homage to his English wife Dorine.""
Wigan Evening Post
""Gorz wants to extract the 'poison' from his previous depiction of Dorine in his first published work. To set the record straight, the fragile, clingy girl of The Traitor is replaced here by an intelligent, vivacious woman on whom he is totally dependent: 'You opened up the richness of life for me and I loved life through you.' The book's conclusion - knowing that a year later Gorz and Dorine committed suicide together - is guaranteed to bring a lump to the throat.""
Times Literary Supplement
""A love letter of such exquisite poignancy that it has now come to define the man.""
Lancashire Evening Post
""Gorz's admiration for his wife's strength of purpose and character, her resolve throughout her long illness, her style, her beauty and her commitment to him are likely to make even the most stern-hearted of readers lachrymose.""
Good Web Guide
""One of the most poignant missives you'll ever read. A meditation on a love supreme.""
Sunday Magazine
""This spare, elegant, best-selling memoir by a celebrated French journalist and writer has been impeccably translated into English by Sydney-born Julie Rose.""
Sydney Morning Herald
""Neither sentimental nor polemic, this book is a celebration of love that lasts, of passion and commitment and loyalty that overcome illness and disappointment. It is not surprising this intimate love-letter has struck a greater chord in Gorz's adopted country than all of his other fine intellectual works of philosophy.""
Courier Mail
""Little gem of a love story.""
Sunday Telegraph
""The heartbreaking postscript caps off a captivating snapshot of a grand love.""
Sunday Mail
""Andre was one of the 20th century's leading philosophers, but none of his words resonate deeper than this moving read ... In these days of email, letter writing has become a lost art. This book is the ultimate love letter from a man to the woman he loves more than life itself, written after he discovered she was dying.""
New Idea
""His love for her is touching and honest, made all the more remarkable by their 58 years of monogamy.""
Sun Herald
""Gorz lays bare his heart for his beloved Dorine ... a love at first sight that turned into a lifetime of love and companionship, which Gorz writes about here with great reverence and beauty.""
Sunday Mail
""It's not about death, it's about life and love.""
Daily News
""The result, freshly translated for an English audience, is an elegiac tribute, which is spared the usual dip into saccharine plaudits by the intellectual rigour of Gorz's impressive mind.""
Sun Herald
""The heartbreakingly romantic French bestseller Letter to D: A Love Story is the ultimate love letter.""
Everywoman
""In a word: poignant.""
Herald Sun
""The true story by Andre Gorz is captivating reading.""
Pregnancy & Birth Magazine
An 'open love letter' that Gorz wrote to his British-born wife, Dorine, whom he had met by chance 60 years earlier and spent his life with.

As Dorine lay dying in 2006, Gorz wrote and published this text. A year later, on 24 September 2007, their bodies were found in their house. They had committed suicide together.

This is a beautifully written and very moving account of their life-long love.

This book has already been a huge success throughout the world, selling over 50,000 copies in France and more than 50,000 copies in Germany. It has been translated into many languages.

An Australian edition was published in 2008 and was widely and glowingly reviewed in the Australian press.