Letters to Hitler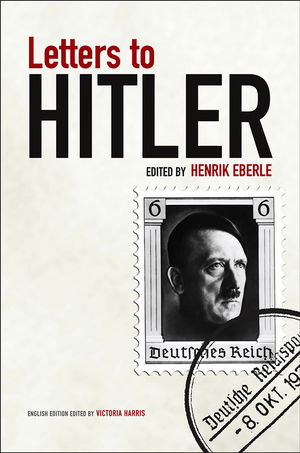 Letters to Hitler
ISBN: 978-0-745-64873-6 July 2012 Polity 240 Pages
Download Product Flyer
Download Product Flyer
Download Product Flyer is to download PDF in new tab. This is a dummy description. Download Product Flyer is to download PDF in new tab. This is a dummy description. Download Product Flyer is to download PDF in new tab. This is a dummy description. Download Product Flyer is to download PDF in new tab. This is a dummy description.
Description
Between 1925 and 1945 thousands of ordinary Germans of both sexes and all ages wrote letters to Hitler. Lost for decades, a large cache of these letters was recently discovered in the KGB Special Archive in Moscow, having been carted off to Russia by the Soviet Secret Police at the end of the war.

The letters range from gushing love letters - 'I love you so much. Write to me, please,' this from a seven-year old girl named Gina - to letters from teachers, students, priests, businessmen and others expressing gratitude for alleviating poverty or restoring dignity to the German people. There are a few protest letters and the occasional desperate plea to release a loved one from a concentration camp, but the overwhelming majority are positive and even rapturous, shedding fresh light on the nature of the Hitler cult in Nazi Germany.

This volume is the first publication of these letters in English. It comprises a selection of the letters and includes a contextualizing commentary that explains the situation of each writer, how the letter was dealt with and what it tells us about Nazi Germany. The commentary also describes the bureaucratic procedures that evolved to deal with the correspondence (Hitler never read any of it), which ranged from warm thanks to referral to the Gestapo.

Cannot be combined with any other offers.
Original Price:$29.90
Purchased together:$22.42
save $7.48
Table of contents
Introduction by Victoria Harris
PART ONE: The 'Time of Struggle': 1924-1932
1. Hitler and the Nazi Party
2. Veneration and Advice
3. Wishes for the New Year
4. Rage and Hope
PART TWO: Worship, Protest and Consent: 1933-1938
1. Recognition, Gratitude, and Veneration
2. Private Petitions and Political Requests
3. Dissent
4. Expressions of Loyalty
5. The Highpoint of Hitler's Popularity
PART THREE: Crisis and War: 1938-1945
1. Jubilation and Concern
2. The Calm Before the Storm
3. At War
4. The End
Suggestions for further reading
Reviews
"A valuable addition to the available sources. There is also a lot here for the general reader: the letters are often surprising in tone and content, and sometimes funny."
Literary Review
"A historic gem ... Eberle's work is an interesting but chilling case study on how a seemingly educated and mature society can be manipulated to the point of blind fanaticism."
Morning Star
"Sheds a whole new light on life under the Nazis."
Daily Express
"An excellent example of the increased drive to portray history from the ordinary, everyday people - if that's what Hitler's followers could be called."
Review 31
"A history of the Third Reich at its most personal and individual; from the fawning letters of sycophants to desperate pleas for clemency from both active opponents and innocents swept up in terror ... an excellent book."
The Australian
"The letters have, like something from a Hans Fallada novel, the stamp of grimy, gritty truth."
The Age
"Gripping evidence on the relationship between Hitler and some ordinary Germans."
Australian Journal of Politics and History
"A unique and captivating view of one nation's devotion to its dictator."
Deseret News
"This collection of letters to Hitler from ordinary Germans is full of fascinating and sometimes disturbing testimonies to the charismatic power of the Nazi dictator. It adds notably to our knowledge of the German people's attitudes towards the Third Reich and its policies."
Richard J Evans, University of Cambridge
"This collection of letters to Hitler provides unique and fascinating insights into the social-psychological climate of the times. Here published for the first time in English, the long-lost letters from ordinary citizens read like voices from the past. Perhaps most strikingly they reveal loyalties to and support for a dictator and a regime we are still struggling to understand."
Robert Gellately, author of Backing Hitler: Consent and Coercion in Nazi Germany