Leukaemia Diagnosis, 3rd Edition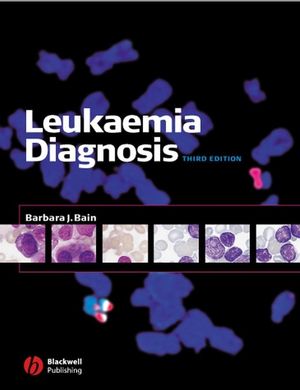 Leukaemia Diagnosis, 3rd Edition
ISBN: 978-1-405-14019-5
Apr 2008, Wiley-Blackwell
272 pages
Description
Now in its third edition Leukaemia Diagnosis has been completely revised and updated throughout to include the latest developments in the fields of haematology and oncology. Written by Barbabra Bain, an acclaimed haematologist and morphologist, Leukaemia Diagnosis is a highly practical guide and reference source, which reflects the latest changes in the fields of morphology, cytochemistry, immunophenotyping, cytogenetics and molecular genetics.


The third edition of Leukaemia Diagnosis includes:



Over 180 superb four-colour photographs of normal cells and abnormal variants

The latest WHO leukaemia classification guidelines
Preface.
Abbreviations.
1 Acute Leukaemia: Cytology, Cytochemistry and the FAB Classification.
2 Acute Leukaemia: Immunophenotyping, Cytogenetics and Molecular Genetics—the EGIL, MIC, MIC-M and WHO Classifications.
3 Myelodysplastic Syndromes.
4 Chronic Myeloid Leukaemias and Mixed Myeloproliferative/Myelodysplastic conditions.
5 Chronic Lymphoid Leukaemias.
Index
"The author and publisher are to be congratulated on another
outstanding contribution
to the literature on haematological malignancies, and no laboratory concerned with any aspect of their diagnosis should be without it.
Highly recommended
."
British Journal of Biomedical Science
"It deserves a place on the clinician's shelf as a companion to one of the major hematology textbooks, and in the hematology laboratory as a convenient reference for abnormal morphology, quality control, and teaching."
The Cancer Bulletin

"This book is much more than an atlas."
British Journal of Haematology

"Leukaemia Diagnosis is a valuable, concise summary of a large amount of up-to-date information."
Cancer Cells