Leukocyte and Stromal Cell Molecules: The CD Markers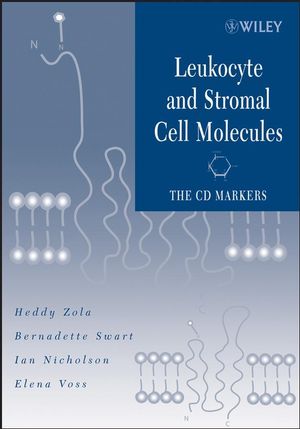 Leukocyte and Stromal Cell Molecules: The CD Markers
ISBN: 978-0-471-70132-3
Feb 2007
600 pages
Product not available for purchase
Description
This unique reference summarizes the structure and function of nearly 600 known leukocyte cell surface molecules and their potential utility as diagnostic and therapeutic targets. 

Leukocyte and Stromal Cell Molecules: The CD Markers offers comprehensive coverage of all known CD molecules based on the results of the latest Human Leukocyte Differentiation Antigen (HLDA) Workshops. It begins with an historical introduction, followed by a concise summary of the structure, function, and applications in research, diagnosis and therapy. Next, overviews for each section discuss latest developments, methodologies, and conclusions. The core chapters then offer one-page CD summaries in a standardized format. The summaries present salient features for each molecule, including its structure (accompanied by a diagram), cell and tissue distribution, function, clinical applications, available reagents, and sources for additional information. A CD-ROM with complete proceedings of the Workshop accompanies the book.

This reference is essential for immunologists, haematologists, pathologists, and clinicians. It is also of use for biologists, technicians, professionals in the diagnostic and research reagents industry, and those in diagnostic laboratories.
PREFACE.
ABBREVIATIONS.
ACKNOWLEDGMENTS.
PART 1: INTRODUCTION AND BACKGROUND MATERIAL.
Chapter 1: Leukocyte Membrane Molecules—An Introduction.
Chapter 2: Web Resources for CD Molecules.
PART 2: MOLECULE PROFILES CD1–CD350.
How to Use the Molecule Profiles.
Symbols Used to Denote Domains, Motifs, and Repeats.
Molecule Profiles CD1–CD350.
INDEX.
"Provides a well-organized base from which your research in other species can expand." (
Veterinary Pathology
, December 12, 2007)
"…the most complete resource currently available." (Doody's Health Services)