Lexus: The Relentless Pursuit, Revised Edition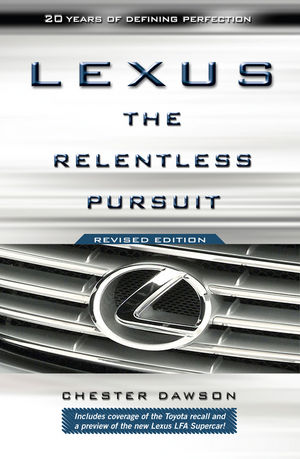 Lexus: The Relentless Pursuit, Revised Edition
ISBN: 978-0-470-82807-6 June 2011 300 Pages
Description
A behind-the-scenes look at Lexus's surprising twenty-year success story—in a revised new edition
In the 1980s, German brands BMW and Mercedes-Benz dominated the luxury car market and had little reason to fear competition from Japan. But in 1989, Toyota entered the market with the Lexus LS 400, a car that could compete with the Germans in every category but price—it was US$30,000 cheaper. Within two years, Lexus had overtaken Mercedes-Benz in the United States and made a stunning success of Toyota's brave foray into the global luxury market.
Lexus: The Relentless Pursuit reveals why Toyota decided to take on the German automakers and how the new brand won praise and success for its unparalleled quality, unforgettable advertising, and unprecedented customer service. From the first boardroom planning session to Lexus's entry into the mega-luxury supercar market, this is the complete and compelling story of one of the world's most admired brands.
Includes a new Foreword by legendary designer Erwin Lui, an Afterword with updates since the first edition, and a new Coda by leading Japanese automotive journalist Hisao Inoue
Covers the racetrack triumph—and tragedy—behind the new US$375,000 Lexus LFA supercar
Offers important business lessons for brand managers and executives
For car enthusiasts, business leaders, and anyone interested in branding and marketing, Lexus: The Relentless Pursuit offers an amazing story of excellence and innovation in the automotive industry.
Introduction and Acknowledgements.
Foreword (Erwin Lui, Creative Innovation Studio Manager, Calty Design Research, Inc).
Chapter One The Toyota Way.
Chapater Two Searching for Bobos
Chapter Three Deus Ex Machina
Chapter Four From Tahara to the World!
Chapter Five The Lexus Covenant.
Chapter Six Zen and the Art of Automobile Maintenance.
Chapter Seven Something Wicked This Way Comes.
Chapter Eight Lexus Nation.
Epilogue.
Afterword.
Coda (Hisao Inoue, Journalist and Author of Toyota Shock (Kodansha: 2009).
Appendix: The Lexus Lineage (1990-2011).
Endnotes.
Index.