Liberal Eugenics: In Defence of Human Enhancement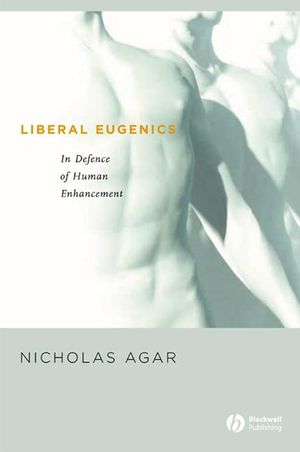 Liberal Eugenics: In Defence of Human Enhancement
ISBN: 978-1-405-12389-1 November 2004 Wiley-Blackwell 216 Pages
Description
In this provocative book, philosopher Nicholas Agar defends the idea that parents should be allowed to enhance their children's characteristics.

Gets away from fears of a Huxleyan 'Brave New World' or a return to the fascist eugenics of the past
Written from a philosophically and scientifically informed point of view
Considers real contemporary cases of parents choosing what kind of child to have
Uses 'moral images' as a way to get readers with no background in philosophy to think about moral dilemmas
Provides an authoritative account of the science involved, making the book suitable for readers with no knowledge of genetics
Creates a moral framework for assessing all new technologies
Preface and Acknowledgments..
1. Genius Sperm, Eugenics, and Enhancement Technologies..
2. A Pragmatic Optimism about Enhancement Technologies..
3. Making Moral Images of Biotechnology..
4. The moral image of therapy..
5. The moral Image of Nature..
6. The Moral Image of Nurture.
7. Our Postliberal Future?.
8. Enhanced Humans When?.
Notes.
Further Reading.
References.
Index.
"The options for human enhancement that genetic science may eventually make possible tend to resist evaluation by traditional approaches to ethics, since the central issue is nothing less than what human nature itself shall be.
Liberal Eugenics
offers refreshingly sensible guidance to the possibilities of cloning, genetic therapy, and genetic enhancement by reference to our 'moral images' of more familiar but relevantly similar practices. At once conservative in its methodology and daring in its defiance of conventional wisdom, this book is a lively and accessible antidote to the prejudice and obscurantism that pervade public debates about these challenging issues."
Jeff McMahan, Professor of Philosophy,
RutgersUniversity
"With Liberal Eugenics, Nicholas Agar has given us a lively, sophisticated defense of genetic enhancement, challenging the anxious sentimentality of biotech luddites without embracing the naïve, reckless optimism of bio-tech enthusiasts. Readers may not always agree with Agar, but they will be engaged by his original and forceful arguments and his apt and delightful examples. The book is a pleasure to read and a provocative piece of applied philosophy – a rare combination." David Wasserman, University of Maryland

"A very persuasive case for an informed, liberal though not laissez-faire approach to research." The Guardian

"This [is a] clear, scientifically well informed and philosophically sophisticated study." Notre Dame Philosophical Review
A provocative defence of the idea that parents should be allowed to enhance their children's genetic characteristics
Gets away from fears of a Huxleyan 'Brave New World' or a return to the fascist eugenics of the past
Written from a philosophically and scientifically informed point of view
Considers real contemporary cases of parents choosing what kind of child to have
Uses 'moral images' as a way to get readers with no background in philosophy to think about moral dilemmas
Provides an authoritative account of the science involved, making the book suitable for readers with no knowledge of genetics
Creates a moral framework for assessing all new technologies