Life Coaching For Dummies®, Portable Edition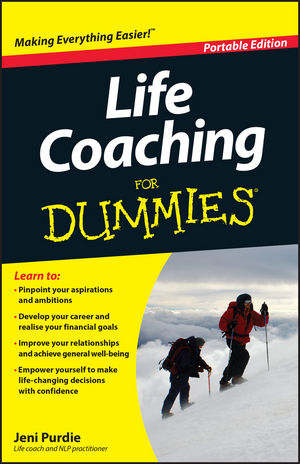 Life Coaching For Dummies®, Portable Edition
ISBN: 978-1-119-94558-1
Apr 2012
282 pages
Product not available for purchase
Description
Learn to:
Pinpoint your aspirations and ambitions
Develop your career and realise your financial goals
Improve your relationships and achieve general well-being
Empower yourself to make life-changing decisions with confidence
Be inspired, take control and unleash your full potential
Life coaching uses a range of practical techniques to help you assess your current situation and choose the best path for you. This hands-on guide takes you through the process of making change and shows you how to make healthy and rewarding choices every step of the way. So follow your aspirations and learn to flourish in all aspects of your personal and professional life.
Plan the route – focus on your aspirations and lay the groundwork for change
Start your coaching journey – unwrap your motivation, explore your options and create an action plan
Focus on key areas of your life – make steps to transform your professional life, improve your relationships or simply work on your day-to-day wellbeing
Coach yourself to happiness – learn how to attract the life you want and generate a positive outlook
Achieve harmony – create the right lifestyle balance for you and take the pain out of making difficult decisions
Open the book and find:
How to be your own life coach
Ways to live in the present and plan for the future
How to protect your physical and emotional well-being
Tips on making life-changing decisions
Techniques for planning effective action
How to maintain your motivation
Ways to overcome common coaching hurdles
Introduction 1
Part I: The Basics of Life Coaching 7
Chapter 1: Introducing Life Coaching 9
Chapter 2: Preparing for Coaching 27
Part II: Your Life Coaching Journey 39
Chapter 3: Becoming Your Best Self 41
Chapter 4: Choosing Your Beliefs 57
Chapter 5: Stocking Up on Powerful Questions 71
Chapter 6: Taking Stock of Now 81
Chapter 7: Planning Effective Action 97
Part III: Focusing on the Elements of Your Life 111
Chapter 8: Career and Work 113
Chapter 9: Money, Wealth and Abundance 131
Chapter 10: Physical, Mental and Emotional Well-being 143
Chapter 11: Developing and Growing 159
Part IV: Working with the Themes of Coaching 169
Chapter 12: Attracting the Life You Want 171
Chapter 13: Coaching Yourself to Happiness 181
Chapter 14: Tackling Common Blocks 195
Part V: Creating a Harmonious Whole Life 207
Chapter 15: Achieving Balance 209
Chapter 16: Making a Life-Changing Decision 227
Part VI: The Part of Tens 243
Chapter 17: Ten Questions to Keep Your Life on Track 245
Chapter 18: Ten Daily Balancing Acts 251
Index 257