Life Coaching For Dummies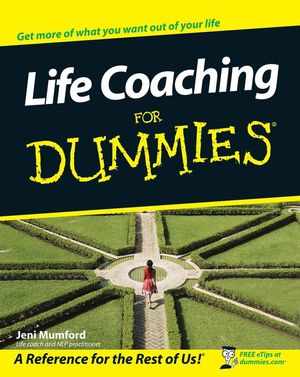 Life Coaching For Dummies
ISBN: 978-0-470-68700-0
Sep 2009
344 pages
Description
Trusted advice on finding a coach and getting more out of life

Life coaching is a popular, though unregulated, personal development tool. This no-nonsense guide debunks the myths behind life coaching and gives expert advice on incorporating it into daily life. Whether readers want to self-coach or work with a professional, this savvy resource provides essential tips on getting priorities straight, being more productive, and achieving goals.

Jeni Mumford (London, UK) is a qualified personal life coach and an accredited NLP practitioner.
Part One: The basics of life coaching.
Chapter One: Introducing Life coaching.
Chapter Two: Deciding what you want to get out of life coaching.
Chapter Three: Preparing for coaching.
Part Two: Your life coaching journey.
Chapter four: Becoming your best self.
Chapter five: Choosing your beliefs.
Chapter Six: Discovering the values that motivate you.
Chapter Seven: Stocking up on empowering questions.
Chapter Eight: Taking stock of now.
Chapter Nine: Exploring your options.
Chapter Ten: Planning effective action.
Part Three: Focusing on the elements of your life.
Chapter Eleven: Career and work.
Chapter Twelve: Money, wealth and abundance.
Chapter Thirteen: People and relationships.
Chapter Fourteen: Physical, mental, and emotional wellbeing.
Chapter Fifteen: Learning and growing.
Part Four: Creating a harmonious whole life.
Chapter Sixteen: Achieving balance.
Chapter Seventeen: Making major life changing decisions.
Chapter Eighteen: Applying your coaching skills more widely.
Part five: The Part of Tens.
Chapter Nineteen – 10 life coaching Beliefs about yourself.
Chapter Twenty– 10 questions to keep your life on track.
Chapter Twenty-one – 10 Daily balancing acts.
Chapter Twenty-two – 10 inspirational resources. Appendix: Becoming a Life Coach.