Life Kerning: Creative Ways to Fine Tune Your Perspective on Career and Life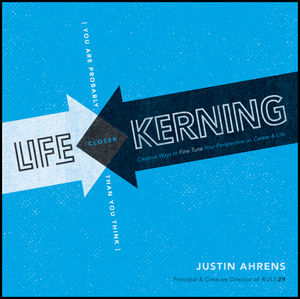 Life Kerning: Creative Ways to Fine Tune Your Perspective on Career and Life
ISBN: 978-1-118-06782-6
Nov 2011
176 pages
Description
Creative approaches for designing a more balanced life and career
In the graphic design industry, kerning is the fine-tuning or adjustment of space between letterforms (type). In this book, author Justin Ahrens applies this concept to both the life and career of business professionals. There is a common misconception that positive change in one's life only comes from a complete system overhaul. Ahrens challenges this notion by inviting business leaders and professionals to not only reassess the various spaces and goals of one's life, but to rethink our understanding of balance altogether.
This book includes insights and observations from both the creative and professional world.
Guides you in determining what you're passionate about, and how to keep those passions in the forefront of your life and career
How to create work that stands apart
How to cultivate and maintain a group of wise mentors
Develop critical decision-making skills
Live a life that fuels your work, and work in a way that fuels your life. Life Kerning shows you how.
Introduction: Kerned Just for You.
Chapter 1: You're Not Perfect.
Chapter 2: Get Naked.
Taking It Off.
Chapter 3: Create Space.
Space for Two.
Space for You.
Chapter 4: Be AntiSocial.
Chapter 5: The power of the list.
List Magic.
Chapter 6: Play Nice With Others.
Giving It a Shot.
Go For It:.
Chapter 7: Are YOU Just Bad at Making GOOD Decisions?
Creating More Good.
Chapter 8: Create An ecosystem.
Being "Eco Friendly".
Chapter 9: Be a link in the Love Chain.
Chapter 10: Do What you love.
Finding the Love.
Chapter 11: Mirror Leadership.
Occasional Looks in the Mirror.
Chapter 12: Embrace Your Nerd.
Nerd Alert.
Chapter 13: Pay it Forward.
Let's Get Cracking.
Chapter 14: Outlook Is Everything.
Let's Get Real.
Chapter 15: Learn from the Wisdom of Others.
Chapter 16: Right Turn Ahead.
Reading the Signs.
Chapter 17: Believe in something bigger than you.
How to Look at Believing Bigger.
Chapter 18: Give Thanks.
Now Is the Time.
Chapter 19: Take a culture dip (why you should travel).
Chapter 20: The power of a name.
Chapter 21: Do personal projects.
Chapter 22: Balance Is a State of Mind.
Chapter 23: Don't burn a bridge.
Chapter 24: BTW, There Are No Rules.