Lifestyle Management in Health and Social Care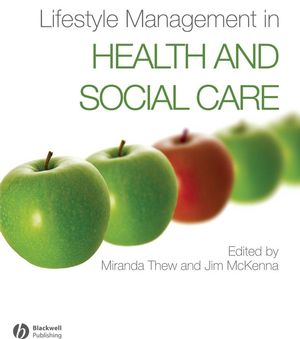 Lifestyle Management in Health and Social Care
ISBN: 978-1-405-17114-4 July 2008 Wiley-Blackwell 280 Pages
Description
Lifestyle Management in Health and Social Care is a one-stop handbook for health and social care professionals that assists in the provision of a wide range of professional lifestyle advice, treatment or condition specific therapy. It is both evidence-based and highly practical. Each chapter provides background information on a particular lifestyle factor including fatigue, stress, relationships and diet. In addition the book offers suggestions for further reading and step-by-step advice on how to explain and facilitate lifestyle skills with clients. At the end of each chapter and posted on the companion website are information sheets to hand out to clients to further support their understanding and their ability to apply effective strategies and skills for change.


Features



Companion website with downloadable PDF files of client handouts

Evidence-based

Multi-professional contributions

Suggestions for further reading

Includes motivational interviewing
Section A: Healthy lifestyles
.
Chapter 1: Creating the opportunity for change.
Steve Paul and Bill Penson.
Chapter 2: Food and lifestyle: Healthy eating and weight management.
Dr Pinki Sahota.
Chapter 3: Getting the balance Right: Managing Work-Home Conflict.
Professor Jim McKenna and Miranda Thew.
Section B: Living with Lifestyle Problems.
Chapter 4: Impact of lifestyle on Back Pain.
Jamie Bell.
Chapter 5: Energy for Life.
Miranda Thew and Sue Pemberton.
Chapter 6: Good Sleep- The Life Enhancer.
Miranda Thew.
Chapter 7: 'Portable' Relaxation for Every Day Living.
Miranda Thew.
Chapter 8: Lifestyle Factors In Managing Elevated Blood Pressure.
Professor Jim McKenna.
Section C: Healthy life and Healthy Relationships.
Chapter 9: Teenagers- Love and Boundaries!.
Gill Coverdale.
Chapter 10: Positive parenting and the Younger Child.
Fiona Wondergem and Dawn Taylor
Advice Boxes
This file is stored in a ZIP archive. If your computer is not capable of opening ZIP archives, you can download a trial version of WinZip at WinZip.com.
Download
Handouts
This file is stored in a ZIP archive. If your computer is not capable of opening ZIP archives, you can download a trial version of WinZip at WinZip.com.
Download


Companion website with downloadable PDF files of client handouts

Evidence-based

Multi-professional contributions

Suggestions for further reading

Includes motivational interviewing