Light Metals 2007, Volume 1, Alumina and Bauxite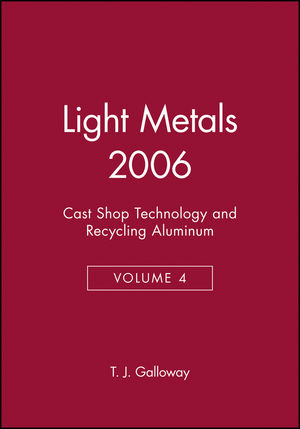 Light Metals 2007, Volume 1, Alumina and Bauxite
ISBN: 978-1-118-00041-0
May 2007
240 pages
Description
These papers are based on presentations prepared for the 2007 Alumina and Bauxite symposium. The original symposium description is as follows: "The Alumina and Bauxite Symposium, along with Cast Shop Technology, Aluminum Reduction Technology, Electrode Technology, Recycling Technology, and Reactive Metals, collectively form the Light Metals Symposium, where experts from the Light Metals Industry and academia from all over the world meet each other and share information. You are invited to submit papers in the following subject areas: Bayer Process: Fundamentals, Chemistry, Operational Improvements and Experiences; Design, Operations and Maintenance for Plant Integrity and Safety, and Environment with focus on Residues; Bauxite Mining; Process Control; Analytical Methods; Design of Refineries for Sustainability and Lowest Capital and Operating Costs."
Preface.
Editor's Biography.
Program Organizers.
Aluminum Committee.
Alumina Refinery Safety and Integrity.
Inspection Techniques for Digestion Pressure Relief System (William Harrington, Garry Harrell, and and Bill Cohea).
Thermography as a Predicting Method in Diagnosis of Scaling in Secondary Tanks and Vacuum Lines (Ricardo Galarraga, Royman Caas, and Jorge Minguett).
Management Methodology for Pressure Equipment (Peter Bletchly).
The Use of Independant Audits in the Management of Aluminium Related Businesses (Anthony Kjar).
Alumina Refinery Design and Development.
Alumina Yield in the Bayer Process- Past, Present and Prospects (Roelof Den Hond, Iwan Hiralal, and Ab Rijkeboer).
Capital Cost: To Be or Not to Be (Peter-Hans Ter Weer and Anthony (Tony) Finbar McCabe).
Chemical Reaction Engineering in the Bayer Process (Daniel Thomas).
Energy Consumption in Bayer Process (Songqing Gu and Lijuan Qi).
Outlooks for the Future in Bauxite Processing (Vadim Lipin, and Vladimir G. Kazakov).
Pressure Decantation at Gramercy Alumina (Patricia Landry and Hugh Edwards).
New Super Mills for Bauxite Grinding at the Gove Alumina Refinery (Colin Thorpe).
Design Developments for Fast Ramp-Up and Easy Operation of New Large Calciners (Michael Missalla, Roger Bligh, Michael Stroeder, and Cornelis Klett).
Bauxite and Digestion, Red Mud, Byproducts.
Mechano-Activated Bauxite Behaviour (Sébastien Fortin and Guy Forté).
Grind Circuit Optimization (Everett Phillips and Peter Dimas).
New Technology for Indirect Thick Slurry Heating (Robert Kelly, Dirk deBoer, and Mark Edwards).
The Conversion and Sustainable Use of Alumina Refinery Residues: Global Solution Examples (Lee Fergusson).
Improvements of the Greymek Process (Zheng Shangguan (surname) and Du Junxia).
Manufacture of Detergent Grade Zeolite-A from Sodium Aluminate Liquor of Alumina Refinery, Damanjodi: NALCO's Experience and Success Story (Chitta Mishra).
Study on Suspension Velocity of Ore Particles in Vertical Reactor (Wen-zhong Cao, Hong Zhong, Wei-wei Tian, and Bo Qiao).
Role of Surface Chemistry in Enhancing Refinery Performance.
Influence of Agglomeration Parameters on the Morphology and Hydrate Strength (Enio Rodrigues, Erik Farias, and Benjamin Hidalgo-Prada).
Performance of New Crystal Growth Modifiers in Bayer Liquor (Jianjun Liu, Dmitri Kouznetsov, James Counter, and Kevin O'Brien).
Oxidation of Bayer Liquor Organics with Submerged Plasma (Lyndon Armstrong, and Gervais Soucy).
Effects of Additives on Precipitation of Sodium Aluminate Solution and Super-Fine Aluminum Hydroxide Morphology (Jianli Wang, Qiyuan Chen, Qingwei Wang, and Zhoulan Yin).
Effects of Mechanically-Activated Seeds on the Agglomeration Process of Supersaturated Sodium Aluminate Liquors (Qiyuan Chen, Jianguo Yin, and Zhoulan Yin).
Effect of Long Chain Fatty Acid Collector on Seed Precipitation from Sodium Aluminate Liquor (Haiyan Yu,Shiwen Bi, Huaimin Zhou, Tao Cheng, and Yu Miao).
Superfine Alumina from Precipitation of Sodium Aluminate Solutions (Jilai Xue, Yunbo Huo, Jun Zhu, and Shao Huahi).
Study on Influence of Carbonate Ion and Organic Impurity on Mud Flocculation in Bayer Process of Alumina Industry (Wen-zhong Cao, Hong Zhong, and Wei-wei Tian).
Effect of Modified Additives on Process of Bayer Seeds Precipitation from Caustic Aluminate Solutions (Zhang Bin, Jie Li, and Qiyuan Chen).
Author Index.
Subject Index.