Light Metals 2007, Volume 5, Recycling and Waste Processing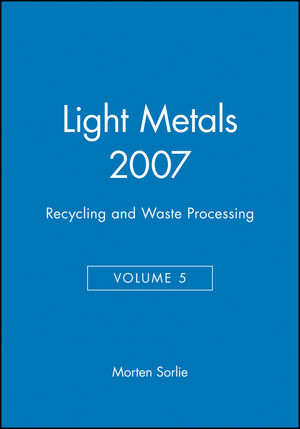 Light Metals 2007, Volume 5, Recycling and Waste Processing
ISBN: 978-1-118-00062-5
May 2007
156 pages
Description
These papers are based on presentations prepared for the Recycling and Waste Processing Symposium. The original symposium description is as follows: "The symposium will present current technology and operational practice in the collection, upgrading, thermal and chemical processing, and refining of scrap metal, engineered materials, and waste products. Symposium topics will include:
Scrap Collection and Sorting
Scrap Pretreatment
Recycling Economics
Recycled Material in Primary Smelters
Melting Furnace Development
UBC and Dross Processing
Recycling of Magnesium
Precious Metals Recycling
Recycling of Refractory Metals
Recycling of Lead
EAF Dust
Waste Materials Handling
Electronic Materials Recycling
Automotive and Transportation Recycling
Recycling of Low-Melting Point Metals
Safety and Environmental Practices
Recycling in the Far East
Recycling in Europe"
Preface.
Editor's Biography.
Program Organizers.
Aluminum Committee.
Automotive Recycling, Global Challenges and Opportunities.
The Impact of the Combination of Technology, Legislation, and Economy on the Resource Cycle (Wijnand Dalmijn and Tako deJong).
Latest Developments in Car Recycling in the Netherlands (David Bebelaar and Wijnand L. Dalmijn).
A Mechanical Separation Process to Recover Metals and Polymers from Shredder Residue (Joseph Pomykala Jr., Bassam J. Jody, Edward J Daniels, Jianhong Yang, and Jeffrey S. Spangenberger).
Elemental Analysis and Chemical Composition Based Material Separation (Adam Gesing).
DE-XRT Imaging for Automatic Particle Sorting (Tako de Jong and Wijnand L. Dalmijn).
The Success of Vehicle Recycling in North America (Richard Paul).
Aluminum.
Recent Projects of the Sloan Industry Center for a Sustainable Aluminum Industry Promoting Aluminum Recycling (Subodh Das).
Six-Sigma Methodology for Improved Energy Efficiency and Productivity (Cynthia Belt and Ray Peterson).
Recovering Aluminum from used Beverage Cansmdash;The Dilemma of 900,000 Annual Tons (Subodh Das, Todd Boggess, Shridas Ningileri, and John A.S. Green).
Identifying Scrap Friendly Alloys Using Chance Constrained Modeling (Gabrielle Gaustad, Subodh Das, and Randolph Kirchain).
Recycling Aluminum Aerospace Alloys (Subodh Das and J. Gilbert Kaufman).
B4C Particle-Reinforced Al Matrix Composites Production from 7075 Al Alloy Chips by Hot Pressing (Eyup Kayali, Onur Meydanoglu, Harun Mindivan, and Huseyin Cimenoglu).
Author Index.
Subject Index.