Light Metals 2007, Volume 6, The Materials Recycling Industry: Global Challenges and Opportunities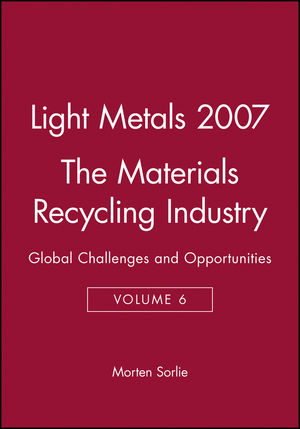 Light Metals 2007, Volume 6, The Materials Recycling Industry: Global Challenges and Opportunities
ISBN: 978-1-118-00063-2
May 2007
120 pages
Description
These papers were presented as part of the plenary discussion, "Aluminum Recycling Industry: Global Challenges and Opportunities," held at the 2007 TMS Annual Meeting in Orlando, FL. Topics covered include: Historical Perspectives, Case Studies, Recovery Systems, Environmental Impact, Separation Technologies.
Preface.
Editor's Biography.
Program Organizers.
Aluminum Committee.
Plenary Session.
Environmental Management of Airborne Metal Emissions in the Recycling Industry (Karen Hagelstein and John E Heinze).
Improved UBC Melting through Advanced Processing (Thomas Thornton, Clay Hammond, Jan Van Linden, Paul Campbell, and Chris Vild).
Characterizing Sustainable Material Recovery Systems: A Case Study of E-Waste Materials (Jeremy Gregory, Elisa Alonso, Frank R. Field, and Randolph Kirchain).
Separation and Recycling Technologies of Mixed Al and Mg Scrap (Christian Wögerer, Günther Klammer, and Michael Kettner).
Integration between Mining and Smelting Business and Environmental Business (Kazuaki Shimada).
Author Index.
Subject Index.