Lightweight Sandwich Construction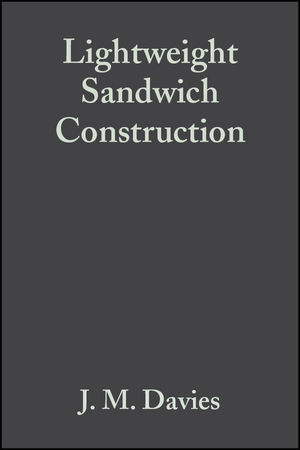 Lightweight Sandwich Construction
ISBN: 978-0-470-77996-5 April 2008 Wiley-Blackwell 384 Pages
Description
Sandwich panels are being used increasingly as the cladding of buildings like factories, warehouses, cold stores and retail sheds. This is because they are light in weight, thermally efficient, aesthetically attractive and can be easily handled and erected. However, to date, an authoritative book on the subject was lacking. This new reference work aims to fill that gap.

The designer, specifier and manufacturer of sandwich panels all require a great deal of information on a wide range of subjects. This book was written by a group of European experts under the editorship of a UK specialist in lightweight construction. It provides guidance on:

* materials used in manufacture

* thermal efficiency and air- and water-tightness

* acoustic performance

* performance in fire

* durability

* special problems of sandwich panels in cold stores and chill rooms

* architectural and aesthetic considerations

* structural design at the ultimate and serviceability limit states

* additional structural considerations including fastenings, the effect of openings and the use of sandwich panels as load-bearing walls

* test procedures

The book concludes with some numerical design examples and is highly illustrated throughout.
List of Contributors.
Preface.
1. Introduction.
2. Materials.
3. Thermal Performance and Water-Tightness.
4. Acoustics.
5. Fire.
6. Durability.
7. Refrigerated Warehouses, Cold Stores and Chill Rooms.
8. Special Architectural Applications.
9. Principles of Structural Behaviour.
10. Load-Bearing Capacity.
11. Loads, Load and Material Factors and Design Procedure.
12. Additional Structural Considerations.
13. Mechanical Testing.
14. Examples of Calculation Procedures.
Index.
"The publication is based on 30 years of the author's research...It is therefore an excellent "state of the art" that will be useful to both practitioners and manufacturers"
R M Lawson, The Steel Construction Institute, August 2001
* attractive design method providing cost effective and speedy construction
* considerable growth in lightweight sandwich construction since the 80s, with development of superstores and business parks
* technical problems of insulation, condensation and fire spread require authoritative guide - nothing available to date
* brings together European expertise under editorship of structural steelwork expert