Limited Liability Companies For Dummies®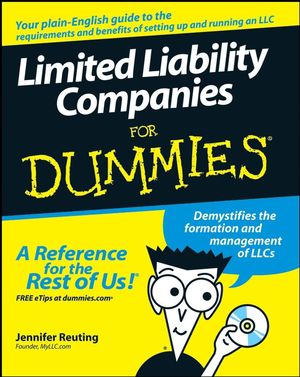 Limited Liability Companies For Dummies®
ISBN: 978-0-470-17328-2
Nov 2007
384 pages
Product not available for purchase
Description
What is a limited liability company? How is an LLC different from a corporation? Should you form an LLC for your business? Limited Liability Companies For Dummies, answers all of your questions about LLCs and demystifies the formation and management of these increasingly popular business entities.

This clear, concise guide explains the pros and cons of LLCs and shares insider insights on everything from choosing your members and your company name to creating and filing your Articles of Organization, to the day-to-day operation of your LLC. You'll also find valuable tips on creating your Operating Agreement, saving on taxes, and avoiding bankruptcy and fraud. You'll discover all the information you need to:
Decide if an LLC is right for you
Get the help you need to from your LLC
Form your LLC in or out of your own state
Lower LLC costs and fees
Convert an existing company to an LLC
Comply with state and local licensing issues
Use your LLC to protect your assets
File annual reports and research franchising fees
Issue membership shares
Dissolve or extend an LLC
Control LLC assets and debt
Keep your LLC intact
Packed with winning strategies for streamlining your business, protecting your assets, and passing your estate on to your heirs, Limited Liability Companies For Dummies gives you the power and the knowledge to take full advantage all the benefits your LLC has to offer.
Introduction.
Part I: LLCs 101.
Chapter 1: What Is an LLC, Really?
Chapter 2: Determining Whether an LLC Is Right for You.
Chapter 3: Getting the Help You Need for Your LLC.
Part II: First Things First: Forming Your LLC.
Chapter 4: Making the Big Decisions: Choosing Members, Managers, and a Name.
Chapter 5: Choosing the Best State for Your LLC.
Chapter 6: Creating Your Articles of Organization.
Chapter 7: Converting Your Current Business into an LLC.
Chapter 8: Making Your LLC Official: Filing with the State.
Part III: Running Your Brand-New LLC.
Chapter 9: ABCs of Setting Up Your Operating Agreement.
Chapter 10: Who Owns What: Deciphering Membership Shares.
Chapter 11: Record Keeping and Maintaining the Charging Order.
Chapter 12: Knowing Your Exit Strategy: Dissolutions and Extensions.
Part IV: Making Cents of Taxes and Protecting Your Assets.
Chapter 13: LLCs and Taxes: Arranging the Best Scenario.
Chapter 14: Using Your LLC to Protect Your Assets.
Chapter 15: Real Estate and LLCs.
Chapter 16: Estate Planning: Avoiding Death Taxes.
Part V: The Part of Tens.
Chapter 17: Ten Good Reasons to Form an LLC.
Chapter 18: Ten Ways to Keep Your Limited Liability Intact.
Chapter 19: Ten Things to Absolutely Avoid Doing with an LLC.
Appendix A: LLC Formation Information by State.
Appendix B: On the CD-ROM.
Glossary.
Index.
Minutes of First Meeting
These are a handful of forms that accompany the Limited Liability Companies For Dummies book.
Download
Form of Membership Certificate

Download
Conformed Copy of Banking Resolutions

Download
Waiver of Notice of First Meeting of Members

Download
Minutes of Annual Meeting of Members

Download
Waiver of Notice of Annual Meeting of Members

Download
Membership Listing

Download