Lingüística aplicada: Adquisición del español como segunda lengua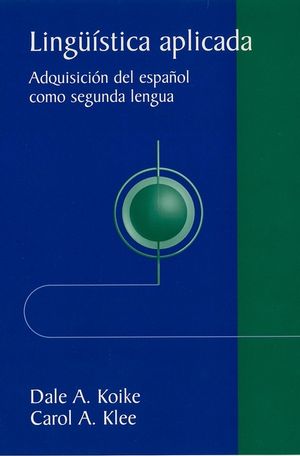 Lingüística aplicada: Adquisición del español como segunda lengua
ISBN: 978-0-471-01391-4
May 2002
256 pages
Product not available for purchase
Description
Appropriate for the undergraduate applied linguistics course and intended for future Spanish language teachers, Lingüística aplicada clarifies aspects of teaching Spanish and culture by addressing the areas of applied linguistics that are most important for future educators of Spanish. These include second language acquisition processes, a study of the language itself, the relationship between language and society/culture, and the use of technology and testing. The text can also be used to teach non-teaching candidates certain aspects of Spanish so that they can improve their linguistic capabilities, develop a greater awareness of the process of learning another language, and learn about the many facets of the Spanish language itself.
Preface

Capitulo 1: Introduccion: la linguistica aplicada
Capitulo 2: El campo de investigacion de la ASL
Capitulo 3: Los pronombres
Capitulo 4: El sistema verbal
Capitulo 5: Los modos y las oraciones complejas
Capitulo 6: Las palabras y su significado
Capitulo 7: La pragmatica
Capitulo 8: Lengue y sociedad en el mundo hispanohablante
Capitulo 9: La technologia y la ASL
Capitulo 10: Medios para medir la competencia de la L2

Apendice A: La conjugacion de los berbos regulares: comprar, vender, vivir
Apendice B: Reglas basicas para la acentuacion
Apendice C: Criterios de evaluacion -
El habla
Apendice D: Los signos ortograficos communes en espa?ol
Glosario
Indice
Approach reflects a belief in the value of discourse analysis, pragmatics, and sociolinguistics in the fields of second language acquisition and applied linguistics.
Goal is to train teachers to teach the Spanish language as a communicative system rather than as a set of grammatical rules—therefore it includes relevant information on Spanish pragmatics and sociolinguistics.
Written entirely in Spanish.
Each chapter includes review questions and exercises.
CD-ROM integrates samples of the course material so that the readers can see and hear native speaker examples of aspects of Spanish as they learn about them.