Linguistics and Literature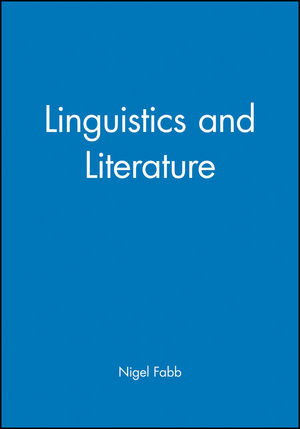 Linguistics and Literature
ISBN: 978-0-631-19243-5 December 1997 Wiley-Blackwell 316 Pages
Description
Linguistics and Literature is the first book to offer an overview of how linguistic theory can be applied to the oral and written literatures of the world
Acknowledgements.
A Note on Texts.
1. Literary Linguistics and Verbal Art.
2. Meter and Linguistic Theory.
3. Kinds of Meter.
4. Issues in Metrical Theory: Metrical Constituents, and Music and Meter.
5. Para-metrical Rules: Word-boundary Rules and Sound-patterning Rules.
6. Parallelism.
7. Narrative: The Storyline.
8. Narrative Episodes.
9. Performance.
10. Communication.
11. Literary Linguistics: Summary and Prospects.
References.
Index of Languages.
General Index.
"A consistent theoretical perspective, broad empirical coverage, and a lucid and engaging exposition make this not just a fine textbook but fascinating reading for anyone interested in language and verbal art. The detailed analyses of texts from oral literatures across the world are a unique and welcome feature. Fabb's book is an impressive demonstration of how the various strands of research in literary linguistics add up to a coherent field of inquiry."
Paul Kiparksy, Stanford University
"Fabb applies linguistic theory to mostly oral literature from around a hundred different languages and literary traditions."Moderna Sprak, Spring 1999
"In common with other books in Blackwell's Textbooks in Linguistics series, it provides exercises at the end of each chapter. Most of these are highly instructive (and challenging) both from the point of view of reinforcing discussion in the body of the text and in terms of extending that discussion, looking at new but related material....( Linguistics and Literature) should be of interest to anyone interested in language and literature. It should be of particular interest to those with a theoretical interest in questions of literary form. It provides an excellent overview of current thinking in literary linguistics as well as making its own contribution to that thinking."Adrian Pilkington, Royal Holloway University of London
* Offers an overview of how linguistic theory can be applied to the oral and written literatures of the world.
* Illustrated with examples from around 100 different literary traditions, quoting texts in the original languages, fully translated and explained.
* Enables readers to put the theoretical issues discussed in the chapters to practical analysis of texts.
* Provides texts for discussion from major works of English literature to previously unpublished oral texts from rarely-discussed traditions.