Linguistics in Clinical Practice, 2nd Edition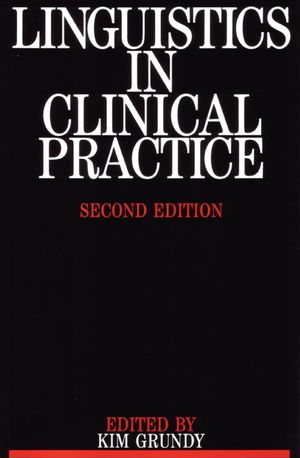 Linguistics in Clinical Practice, 2nd Edition
ISBN: 978-1-897-63552-0 November 2006 412 Pages
Description
This book has been written by practicing clinicians and researchers who are closely involved with individuals who have disorders of communication.
The first section provides an overview of basic issues and terminology in clinical linguistics; the second section discusses the purpose and value of assessing specific aspects of an individual' s linguistic ability and evaluates mainstream linguistic assessment procedures. The third sectionreviews the impact that modern linguistics is having on clinical intervention.
For this 2nd edition, the book has been updated to take into account recent research developments and there is a new chapter on the assessment of speech perception.
Cannot be combined with any other offers.
Original Price:$198.98
Purchased together:$149.23
save $49.75
Table of contents
Preface to First Edition.
Preface to Second Edition.
Acknowledgements to Second Edition.
Contributors.
Section 1. Fundamentals of linguistics for clinicians.
Chapter 1. Introduction - Kim Grundy
Chapter 2. Terminology - Kim Grundy
Section II. Linguistics and assessment of speech and language impairment.
Chapter 3. Assessment of Speech Production - Susanna Evershed Martin and Allen Hirson.
Chapter 4. Assessment of Speech Perception - Kevin Baker and Kim Grundy.
Chapter 5. Assessment of Phonology - Pamela Grunwell
Chapter 6. Syntactic Assessment of Expressive Language - Michael Garman and Susan Edwards.
Chapter 7. Investigating Comprehension of Syntax - M. Hazel Dewart.
Chapter 8. Assessment of Semantics - Jenny Landells.
Chapter 9. Assessment of Pragmatics - Gina Conti-Ramsden and Michael F. McTear.
Chapter 10. Linguistic Assessment of Prosody - Bill Wells, Sue Peppe and Maggie Vance.
Section III. The role of linguistics in the management of clients with speech and language impairments.
Chapter 11. Applying Linguistics to Acquired Aphasia - Alison Ross.
Chapter 12. Dysfluency and Child Language - Florence L. Myers.
Chapter 13. Developmental Language Disorders - Catherine Adams and Gina Conti-Ramsden.
Chapter 14. Developmental Speech Disorders - Kim Grundy and Anne Harding.
Chapter 15. Acquired Neurogenic Speech Disorders: Applying Linguistics to Treatment - Niklas Miller and Gerry Docherty.
Index