Linguistics in a Colonial World: A Story of Language, Meaning, and Power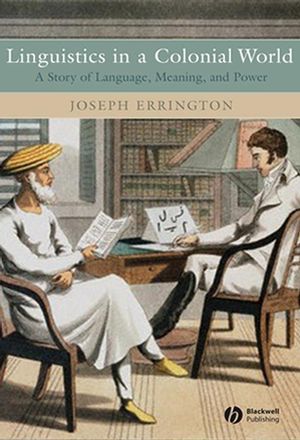 Linguistics in a Colonial World: A Story of Language, Meaning, and Power
ISBN: 978-1-405-10569-9 September 2007 Wiley-Blackwell 212 Pages
Description
Drawing on both original texts and critical literature,
Linguistics in a Colonial World
surveys the methods, meanings, and uses of early linguistic projects around the world.


Explores how early endeavours in linguistics were used to aid in overcoming practical and ideological difficulties of colonial rule

Traces the uses and effects of colonial linguistic projects in the shaping of identities and communities that were under, or in opposition to, imperial regimes

Examines enduring influences of colonial linguistics in contemporary thinking about language and cultural difference

Brings new insight into post-colonial controversies including endangered languages and language rights in the globalized twenty-first century
Table of contents
Preface.
Acknowledgments.
List of Figures and Table.
1. The Linguistic in the Colonial.
2. Early Conversions, or, How Spanish Friars Made the Little Jump.
3. Imaging the Linguistic Past.
4. Philology's Evolutions.
5. Between Pentecost and Pidgins.
6. Colonial Linguists, (Proto)-National Languages.
7. Postcolonial Postscript.
References.
Language Index.
Persons Index.
Subject Index
Reviews
"This slim book covers a lot of ground, geographically, historically, and intellectually." (
Journal of the Royal Anthropological Institute
, December 2008)
"Errington … provides a useful overview of analytical and methodological developments and changing applications in the history of linguistics. Highly recommended." (CHOICE, November 2008)
"The succinctness of the writing and the importance of the central argument make the reviewed text likely to appear on many course syllabi." (Journal of Sociolinguistics)
Features


Explores how early endeavours in linguistics were used to aid in overcoming practical and ideological difficulties of colonial rule

Traces the uses and effects of colonial linguistic projects in the shaping of identities and communities that were under, or in opposition to, imperial regimes

Examines enduring influences of colonial linguistics in contemporary thinking about language and cultural difference

Brings new insight into post-colonial controversies including endangered languages and language rights in the globalized twenty-first century