Linkage Inc's Best Practices in Leadership Development Handbook: Case Studies, Instruments, Training, 2nd Edition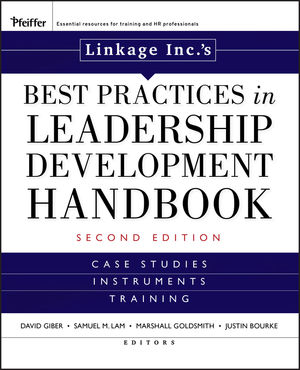 Linkage Inc's Best Practices in Leadership Development Handbook: Case Studies, Instruments, Training, 2nd Edition
ISBN: 978-0-470-45142-7
Mar 2009, Pfeiffer
480 pages
Description
Leadership development is a planned effort that enhances the learner's capacity to lead people. Building on the success of the first edition, Linkage conducted a study of over 300 top organizations and their needs in organizational change and leadership development that identifies approaches to leadership development that have proven to be successful. The work offers practical "how-to" instructions developing leaders and engaging in leadership development. It provides current in-depth models, assessments, tools, and other instruments that can be used for immediate application within a variety of organizations.
Figures, Tables, and Exhibits.
Foreword (Warren Bennis).
Introduction (David Giber).
PART ONE: DEFINING LEADERSHIP DEVELOPMENT.
1 Context, Culture, and Complexities: Best Practices Versus Best Fit.
2 Helping People Achieve Their Goals.
3 Assessing the Leader.
4 Leadership Development and Organizational Strategy.
5 Developing the Innovative Leader.
6 Developing Leaders in a Global Landscape.
7 Investing in Women: Why It Is Critical for Companies in the Twenty-First Century.
PART TWO: BEST PRACTICES IN LEADERSHIP DEVELOPMENT.
8 McKesson.
9 Yahoo!
10 Johnson & Johnson.
11 Cisco: Collaborative Leadership.
12 Department of Treasury and Finance, Victoria, Australia: Creating High-Performing Teams.
13 Macy's.
14 Bank of America: Executive On-Boarding.
15 Humana: Advancing Strategy and Building Culture Through Leadership Development.
16 Dell.
17 Land O'Lakes: Leadership Edge Case Study.
18 PricewaterhouseCoopers: A Global Leadership Development Program for High-Potential Staff.
Appendix: Global Survey—How Organizations Practice Leadership.
Sources.
Index.
About the Editors.
About Linkage Inc.