Linking Parents and Family to Adolescent Peer Relations: Ethnic and Cultural Considerations: New Directions for Child and Adolescent Development, Number 116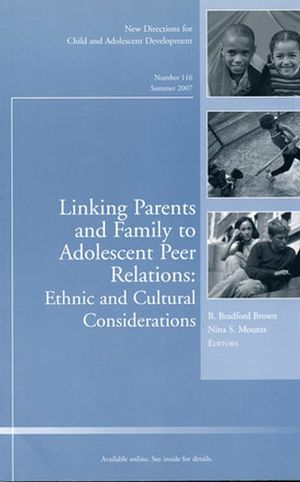 Linking Parents and Family to Adolescent Peer Relations: Ethnic and Cultural Considerations: New Directions for Child and Adolescent Development, Number 116
ISBN: 978-0-470-17801-0
Jul 2007, Jossey-Bass
120 pages
Description
A definitive look at ethnic influences of family on adolescent peer relationships
This fascinating look at the effects of ethnicity and culture on the linkages between family and adolescent relations provides an in-depth look at the topic. Pushing into a new era in the research on connections between adolescents' peer and family relationships, Linking Parents and Family to Adolescent Peer Relations: Ethnic and Cultural Considerations develops the groundwork for thinking about the ways in which culture has been conceptualized in social scientific research. The book then explores the dynamic within the context of various ethnic groups, noting differences and similarities that collectively render a complete view of the topic.
1. The Cultural Context of Family-Peer Linkages in Adolescence (
B. Bradford Brown, Nina S. Mounts
)
To introduce the volume, the editors explore how researchers have defined and measured ethnicity, as well as how peer and family worlds can intersect in adolescence. Integrating these two issues, they propose six general principles to guide future research on ethnic or cultural influences on family-peer linkages in adolescence.
2. Parental Goals Regarding Peer Relationships and Management of Peers in a Multiethnic Sample (Nina S. Mounts, Hyun-Soo Kim)
Using qualitative and quantitative data from three ethnic groups, the authors examine the goals and concerns that parents have in regard to peer relationships. The authors also explore how these goals are related to parental management of peer relationships.
3. Exploring Adolescent Perceptions of Parental Beliefs and Practices Related to Friendships in Diverse Ethnic Communities (Niobe Way, Melissa L. Greene, Preetika Pandey Mukherjee)
Using qualitative and quantitative data collected from a multiethnic sample, the authors explore adolescents' perceptions of parental peerrelated beliefs and practices and how these beliefs and practices change over time.
4. Mexican-Origin Parents' Involvement in Adolescent Peer Relationships: A Pattern Analytic Approach (Kimberly A. Updegraff, Sarah E. Killoren, Shawna M. Thayer)
Focusing only on the experiences of Mexican-origin families, the authors explore how cultural and ecological experiences are linked to variations in parental roles in adolescents' peer relationships within the Mexican ethnic group.
5. Sharing Information About Peer Relations: Parent and Adolescent Opinions and Behaviors in Hmong and African American Families (B. Bradford Brown, Jeremy P. Bakken, Jacqueline Nguyen, Heather G. Von Bank)
Case studies and quantitative data from two distinct American ethnic groups indicate how the information about peers that adolescents disclose or parents try to discover depends on the groups' respective opinions about what parents have a right to know, as well as cultural norms on adolescence and parent-child relations.
6. Adolescent Family and Peer Relationships: Does Culture Matter? (Rachel Seginer, Shirli Shoyer, Rabiaa Hossessi, Hyam Tannous)
The authors examine the cross-cultural variability of the interrelations between adolescents' perceived parent, sibling, and peer relationships in a sample of Israeli Arab, Druze, and Jewish adolescents.
INDEX.