Linux Bible 2010 Edition: Boot Up to Ubuntu, Fedora, KNOPPIX, Debian, openSUSE, and 13 Other Distributions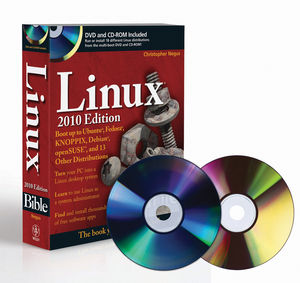 Linux Bible 2010 Edition: Boot Up to Ubuntu, Fedora, KNOPPIX, Debian, openSUSE, and 13 Other Distributions
ISBN: 978-0-470-63382-3
Jun 2010
912 pages
Product not available for purchase
Description
The definitive guide to the basics of one of the most popular operating systems in the world
Whether you're a first-time Linux user or you're migrating from another operating system, this book is an ideal introductory guide for getting comfortable with the building-block nature of Linux. Written by bestselling author Christopher Negus, this guide is packed with in-depth descriptions on the basics of Linux desktops, servers, and programming tools and gets you up to speed on all the new and exciting features of the newest version: Linux 2010. Negus walks you through transitioning from Windows or Mac and helps you find the Linux distribution that best meets your needs.
You'll explore more than 18 Linux distributions, including the latest versions of Ubuntu, Fedora, Debian, OpenSUSE, Slackware, Knoppix, Gentoo, Mandriva, SLAX, and more. Plus, you'll discover how to set up secure, fully functioning Linux server systems and get up-to-date installation advice.
Topics Covered:
Getting off the Ground with Linux
Running a Linux Desktop
Learning System Administration Skills
Setting Up Linux Servers
Choosing and Installing Different Linux Distributions
Programming in Linux
Linux Bible 2010 Edition walks you through the details of the various Linux distributions and updates you on the latest networking, desktop, and server enhancements.
Note: CD-ROM/DVD and other supplementary materials are not included as part of eBook file.
Introduction.
Part I: Getting off the Ground with Linux.
Chapter 1: Starting with Linux.
Chapter 2: Linux Projects, Activities, and Careers.
Part II: Running a Linux Desktop.
Chapter 3: Getting into the Desktop.
Chapter 4: Playing Music and Video.
Chapter 5: Working with Words and Images.
Chapter 6: E-Mailing and Web Browsing.
Chapter 7: Gaming with Linux.
Part III: Learning System Administration Skills.
Chapter 8: Installing Linux.
Chapter 9: Running Commands from the Shell.
Chapter 10: Learning Basic Administration.
Chapter 11: Getting on the Internet.
Chapter 12: Securing Linux.
Part IV: Setting Up Linux Servers.
Chapter 13: R unning a Linux, Apache, MySQL, and PHP (LAMP) Server.
Chapter 14: Running a Mail Server.
Chapter 15: Running a Print Server.
Chapter 16: Running a File Server.
Part V: Choosing and Installing Different Linux Distributions.
Chapter 17: Running Ubuntu Linux.
Chapter 18: Running Fedora and Red Hat Enterprise Linux.
Chapter 19: Running Debian GNU/Linux.
Chapter 20: Running SUSE and openSUSE Linux.
Chapter 21: Running KNOPPIX.
Chapter 22: Running Yellow Dog Linux.
Chapter 23: Running Gentoo Linux.
Chapter 24: Running Slackware Linux.
Chapter 25: Running PCLinuxOS.
Chapter 26: Running Mandriva.
Chapter 27: Running a Linux Firewall Router.
Chapter 28: Running Bootable Linux Distributions.
Part VI: Programming in Linux.
Chapter 29: Programming Environments and Interfaces.
Chapter 30: Programming Tools and Utilities.
Appendix A: Media.
Appendix B: Linux History and Background.
GNU General Public License (Version 2).
Index.
""If you are already a Linux user and want to know more about the technical aspects mentioned above, or want to experiment with other distributions than the one you are familiar with, then this book is for you. It will help you avoid buying a dozen different books with very similar content."" (Computing Reviews, October 2010)