Linux For Dummies Quick Reference, 3rd Edition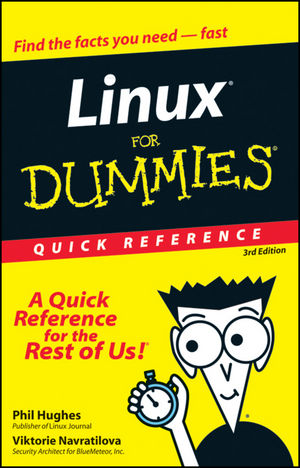 Linux For Dummies Quick Reference, 3rd Edition
ISBN: 978-1-118-08508-0
Jun 2011
256 pages
Product not available for purchase
Description
Linux For Dummies Quick Reference, 3rd Edition, takes you straight to the heart of this revolutionary new operating system from selecting and installing the right version to handling standard networking and system administration tasks. The book features an alphabetical listing of common shell commands, keyboard shortcuts for working with e-mail and the X-Window system, and tons of tips on how to handle DOS, Windows, Mac, and UNIX files. And the book's special lay-flat binding means that the information you need is always right at your fingertips.
The Big Picture: Linux.

PART I: Getting to Know Linux.

PART II: Understanding the Shell.

PART III: Common Shell Commands.

PART IV: Using X with KDE, GNOME, or FVWM.

PART V: Text Editors and Working with Text.

PART VI: Sending and Receiving E-Mail.

PART VII: Working with the Other Guys.

PART VIII: Networking.

PART IX: Systems Administration.

PART X: Using Regular Expressions.

Appendix: Online Resources -
General Web Resources -
Distribution Web Pages -
FTP Resources -
Magazines -
Usenet Newsgroups -
Glossary: Techie Talk -
Index -
Book Registration Information.