Linux Sendmail Administration: Craig Hunt Linux Library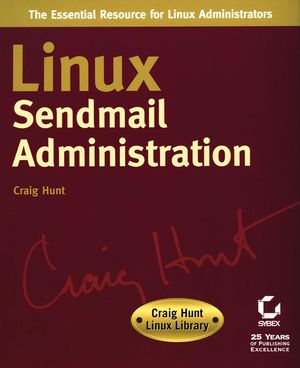 Description
Authoritative Answers to All Your Sendmail Questions—Specifically for Linux Administrators
Linux Sendmail Administration is the most complete, most advanced guide to Sendmail you'll find anywhere. Written by one of today's most renowned Linux experts, this book teaches you, step-by-step, all the standard and advanced techniques you need to know to install, configure, and maintain Sendmail. Hundreds of clear, consistent examples illustrate these techniques in detail—so you stay on track and accomplish all your goals. Coverage includes:
Understanding Internet mail protocols and multimedia extensions
Understanding e-mail architecture and the role of Sendmail
Installing Sendmail source or a binary distribution on a Linux system
Building a Sendmail configuration using the m4 language
Analyzing and improving the Red Hat Sendmail configuration
Using Sendmail databases to customize your configuration
Understanding the sendmail.cf file and its commands
Understanding ruleset and using rewrite rules to modify addresses
Hiding usernames and hostnames
Testing and debugging Sendmail configurations
Controlling spam e-mail
Securing a Sendmail server
Using Sendmail cryptographic authentication techniques
The Craig Hunt Linux Library
The Craig Hunt Linux Library is a seven-book set that provides in-depth, advanced coverage of the key topics for Linux administrators. Topics include Samba Server Administration, System Administration, DNS Server Administration, Apache Web Server Administration, NFS and Automounter, and Linux Security. Each book in the series is either written by or meticulously reviewed by Craig Hunt to ensure the highest quality and most complete coverage for networking professionals working specifically in Linux environments.
Introduction.
Part 1: How Things Work.
Chapter 1: Internet Mail Protocols.
Chapter 2: Understanding E-Mail Architecture.
Chapter 3: Running Sendmail.
Part 2: Essential Configuration.
Chapter 4: Creating a Basic Sendmail Configuration.
Chapter 5: Understanding a Vendorճ Configuration.
Chapter 6: Using Sendmail Databases.
Part 3: Advanced Configuration.
Chapter 7: The sendmail.cf File.
Chapter 8: Understanding Rewrite Rules.
Chapter 9: Special m4 Configurations.
Part 4: Maintaining a Healthy Server.
Chapter 10: Testing Sendmail.
Chapter 11: Stopping Spam.
Chapter 12: Sendmail Security.
Appendices.
Appendix A: m4 Macro Command Reference.
Appendix B: The sendmail Command.
Appendix C: Sendmail Variables, Options, and Flags.
Index.
Chapter
Page
Details
Date
Print Run
Combined Errata


Page 48

Mail Relaying topic reference figure 2.1 should be 2.3 and reference figure 2.2 should be 2.4

Page 140

Code line on bottom of page, confDEFMAP should be confMAPDEF

Page 287-288

Under listing 10.11, the lines that contain $m should contain $M (Case is important)
Like wise the text that describes the example should say $M where it says $m


---