Linux Toys: 13 Cool Projects for Home, Office and Entertainment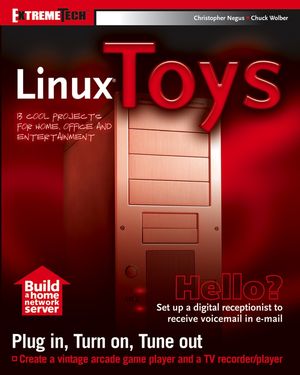 Linux Toys: 13 Cool Projects for Home, Office and Entertainment
ISBN: 978-0-764-52508-7
Oct 2003
360 pages
Product not available for purchase
Description
* Christopher Negus is the bestselling author of Red Hat Linux 8 Bible (0-7645-4968-5) and earlier versions, with more than 125,000 copies sold
* Readers learn to build sixteen fun and useful devices for home and office, using spare parts and free software
* Projects include transforming an answering machine into an e-mail converter, building an MP3 music jukebox, building a car entertainment center, and creating a TV video recorder/player
* Projects work with any version of Linux
* Companion Web site includes specialized hardware drivers and software interfaces, plus music and game software
Preface.
Acknowledgments.
Part I: The Basics.
Chapter 1: Exploring Linux Toys.
Chapter 2: Finding Hardware and Software.
Part II: Entertainment Projects.
Chapter 3: Making a Music Jukebox.
Chapter 4: Building a Digital Home Video Archive.
Chapter 5: Building a Television Recorder/Player.
Chapter 6: Creating an Arcade Game Player.
Part III: Projects for the Home.
Chapter 7: Creating a Home Network.
Chapter 8: Making a Home Broadcast Center.
Chapter 9: Building a Temperature Monitor.
Chapter 10: Setting Up a Digital Receptionist.
Part IV: Small Business Opportunities.
Chapter 11: Be a Mini ISP.
Chapter 12: Be a Web-Hosting Service.
Part V: Just for Fun.
Chapter 13: Linux on a Floppy and BSD Games.
Chapter 14: Controlling Toy Cars.
Chapter 15: Creating a Digital Picture Frame.
Appendix A: Getting the Software.
Appendix B: ABCs of Using Linux.
Appendix C: Basics of Red Hat Linux Installation.
Index.
GNU General Public License.
"...Linux Format Top Stuff Award...9/10 Lots of ideas for making your machine do cool things..." (
Linux Format
, February 2004)
"...the book was good fun, entertaining and thought provoking..." (Linux Magazine, January 2004)
Welcome to the Linux Toys Web site
Welcome to the Linux Toys Web site. Check here for information related to Linux Toys.
You can reach the Linux Toys community at:
www.linuxtoys.net

The LinuxToys.net community Web site is there as a venue for providing feedback and getting help related to the Linux Toys projects.