Linux Troubleshooting Bible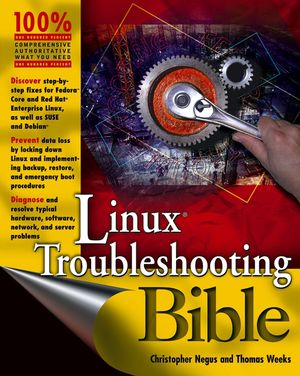 Description
* An indispensable resource for Fedora users who must now work without customer support from Red Hat, Inc., covering critical troubleshooting techniques for networks, internal servers, and external servers
* Chris Negus is a well-known Linux authority and also the author of the top-selling Red Hat Linux Bible (0-7645-4333-4); Thomas Weeks is a trainer and administrator who manages hundreds of Red Hat Linux systems
* Covers all of the most common Fedora problem areas: firewalls, DNS servers, print servers, Samba, NFS, Web servers, FTP servers, e-mail servers, modems, adding hardware, and hardware certification
* Features easy-to-use flowcharts that guide administrators step by step through common Fedora troubleshooting scenarios
* A companion Web site offers troubleshooting updates to keep pace with the frequent Fedora Core releases as well as a forum for exchanging troubleshooting tips
Preface.
Acknowledgments.
Part I: Getting Going.
Chapter 1: Introduction to Linux Troubleshooting.
Chapter 2: Troubleshooting Installation.
Chapter 3: Updating and Upgrading Fedora.
Part II: Preventing Problems.
Chapter 4: Securing and Automating Desktop and Server Installs.
Chapter 5: Preparing for Backups and Migration.
Part III: Troubleshooting Basic Features.
Chapter 6: Troubleshooting Tools.
Chapter 7: X Troubleshooting: Video, Mouse, and Keyboard.
Chapter 8: Software Package Troubleshooting.
Chapter 9: File System, Disk, and Power Troubleshooting.
Part IV: Troubleshooting the Network.
Chapter 10: Detecting and Responding to Intrusions.
Chapter 11: Firewall Troubleshooting.
Chapter 12: Troubleshooting BIND9 and DNS.
Chapter 13: Modem Troubleshooting.
Part V: Troubleshooting Internal Services.
Chapter 14: Printer Troubleshooting.
Chapter 15: Samba Troubleshooting.
Chapter 16: NFS Troubleshooting.
Part VI: Troubleshooting External Services.
Chapter 17: Web Server Troubleshooting.
Chapter 18: File Transfer Troubleshooting.
Chapter 19: E-Mail Server Troubleshooting.
Appendix A : Fedora Software Repositories.
Appendix B : Troubleshooting SUSE Linux.
Appendix C : Troubleshooting Debian GNU/Linux.
Index.