Lipases and Phospholipases in Drug Development: From Biochemistry to Molecular Pharmacology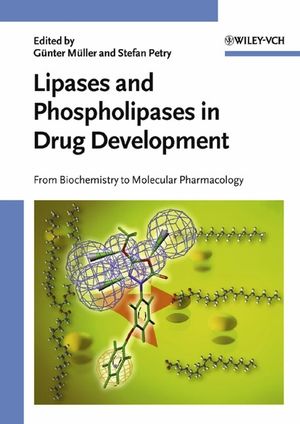 Lipases and Phospholipases in Drug Development: From Biochemistry to Molecular Pharmacology
ISBN: 978-3-527-60570-5 March 2006 354 Pages
Description
Lipases and Phospholipases are key control elements in mammalian metabolism. They share many common features that set them apart from other metabolic enzyme classes, most importantly their association with biological membranes. Their potential as drug targets for the treatment of metabolic diseases is widely recognized, and the first lipase inhibitor drugs have been successfully introduced.
Providing drug developers with a firm foundation for lipase-centered drug design, the editors of this volume have assembled experts from different scientific disciplines to create a comprehensive handbook for all pharmaceutical chemists, biochemists and physiologists working with lipases.
The authors examine fundamental aspects of lipase function in vitro and in vivo, explaining how this knowledge may be used to develop lipase assays. They also treat the physiological roles of lipases in normal and disordered metabolism, as well as strategies to target lipases for the treatment of diabetes, obesity and related disorders. Additional topics include the application of phospholipases for liposome-based drug delivery and their use as diagnostic tools.

Preface.
List of Contributors.
1. Purification of Lipase (P. Vasudevan).
2. Phospholipase A1: Structures, Physiological and Patho-physiological Roles in Mammals (K. Inoue, et al.).

3. Rational Design of a Liposomal Drug Delivery System Based on Biophysical Studies of Phospholipase A2 Activity on Model Lipid Membranes (K.Jorgensen, et al.).

4. Phospholipase D (J. Exton).
5. Sphingomyelinases and Their Interaction with Membrane Lipids (F. Goñi & A. Alonso).
6. Glycosyl-phosphatidylinositol Cleavage Products in Signal Transduction (Y. León & I. Varela-Nieto).
7. High-throughput Screening of Hormone-sensitive Lipase and Subsequent Computer-assisted Compound Optimization (S. Petry, et al.).

8. Endothelial Lipase: A Novel Drug Target for HDL and Atherosclerosis? (K. Badellino, et al.).

9. Digestive Lipases Inhibition: an In vitro Study (A. Tiss, et al.).

10. Physiology of Gastrointestinal Lipolysis and Therapeutical Use of Lipases and Digestive Lipase Inhibitors (H. Lengsfeld, et al.).

11. Physiological and Pharmacological Regulation of Triacylglycerol Storage and Mobilization (G. Müller).
Subject Index.
"Historical and state-of-the-art information is provided. The international authorship enhances the relevance of the book…the text is well-written and understandable." (E-STREAMS, January 2005)