Liquid Interfaces in Chemistry and Biology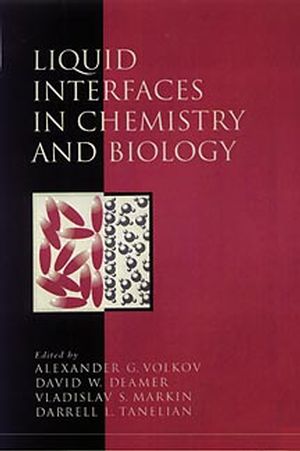 Liquid Interfaces in Chemistry and Biology
ISBN: 978-0-471-14872-2 December 1997 568 Pages
Description
This text is intended for use as an introduction to both the theory of surface science and its applications in modern biology and chemistry. The book attempts to explain the physical and chemical fundamentals of interfacial phenomena, and readers will find virtually all definitions and concepts needed to understand the role of interfaces in chemistry and biology.
THERMODYNAMICS OF INTERFACES.

Introduction to Classical Thermodynamics.

Measurement of Interfacial Tension.

Adsorption at Liquid Interfaces.

ELECTRIFIED INTERFACES.

Interfacial Potentials.

Electrocapillarity.

Energetics of Extraction.

STRUCTURE OF INTERFACES.

Interfacial Structures and Electrical Double Layers.

CHEMISTRY AT LIQUID INTERFACES.

Interfacial Catalysis.

Light Energy Conversion at Liquid-Liquid Interfaces: Artificial Photosynthetic Systems.

MEMBRANES.

Membrane Thermodynamics and Electrostatics.

Mechanics of Interfaces.

Bibliography.

Appendix.

Index.