Lishman's Organic Psychiatry: A Textbook of Neuropsychiatry, 4th Edition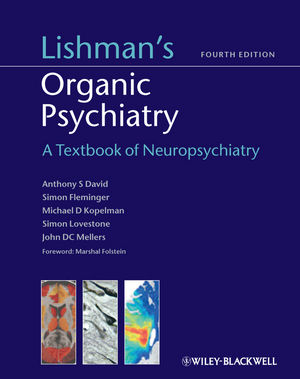 Lishman's Organic Psychiatry: A Textbook of Neuropsychiatry, 4th Edition
ISBN: 978-1-444-35681-6
Aug 2011, Wiley-Blackwell
948 pages
Product not available for purchase
Description
"For three decades psychiatrists have turned to Lishman's Organic Psychiatry as the standard neuropsychiatry reference. It stood as the last great single author reference text in medicine, a combination of meticulous, exhaustive research conveyed in a beautifully clear style. Now the mantle has been passed to a group of five distinguished authors and it is to their considerable credit that the attributes which made Organic Psychiatry such a distinctive voice remain. The fourth Edition of Lishman's Organic Psychiatry is a rich blend of detailed clinical inquiry and up to date neuroscience. It should be on every psychiatrist;s book shelf."
—Anthony Feinstein, MPhil, PhD., FRCP, Professor, Department of Psychiatry, University of Toronto, Canada

Over the past 30 years, thousands of physicians have depended on Lishman's Organic Psychiatry. Its authoritative and reliable clinical guidance was - and still is - beyond compare.

The new edition of this classic textbook has now been extensively revised by a team of five authors, yet it follows the tradition of the original single-authored book. It continues to provide a comprehensive review of the cognitive, emotional and behavioural consequences of cerebral disorders and their manifestations in clinical practice. Enabling clinicians to formulate incisive diagnoses and appropriate treatment strategies, Lishman's Organic Psychiatry is an invaluable source of information for practising psychiatrists, neurologists and trainees.

This new edition:
covers recent theoretical and clinical developments, with expanded sections on neuropsychology and neuroimaging
includes a new chapter on sleep disorders whilst the chapters on Alzheimer's disease and related dementias, Epilepsy, Movement disorders and Traumatic brain injury have been extensively revised reflecting the greatly improved understanding of their underlying pathophysiologies
showcases the huge advances in brain imaging and important discoveries in the fields of molecular biology and molecular genetics
has been enhanced with the inclusion of more tables and illustrations to aid clinical assessment
incorporates important diagnostic tools such as magnetic resonance brain images.
Contributor List, vi
Foreword, vii
Preface to the First Edition, ix
Preface to the Fourth Edition, xi
Part 1: Principles.
1 Basic Concepts in Neuropsychiatry, 3
2 Neuropsychology in Relation to Psychiatry, 29
3 Clinical Assessment, 103
Part 2: Specific disorders.
4 Head Injury, 167
5 Cerebral Tumours, 281
6 Epilepsy, 309
7 Intracranial Infections, 397
8 Cerebrovascular Disorders, 473
9 Alzheimer's Disease and Other Dementias (Including Pseudodementias), 543
10 Endocrine Diseases and Metabolic Disorders, 617
11 Addictive and Toxic Disorders, 689
12 Movement Disorders, 745
13 Sleep Disorders, 817
14 Other Disorders of the Nervous System, 845
Index, 907
Colour plates are found facing p. 468
"It is a masterpiece worthy of its heritage, offering the unique richness that was evident in the original work. As such, it should be viewed as a necessary if occasional resource for the general psychiatrist and as an absolute requirement for the training and practice of consulting psychiatrists." (
Journal of Clinical Psychiatry
, 2011)
"The book is ambitious in its scope and although running to over 900 pages does not feel cumbersome to handle. … Like its predecessors, [it] is an essential addition to the library of any general, liaison or old-age psychiatrist or neurologist." (Progress in Neurology and Psychiatry, December 2009)
"It is impossible to review this book in any conventional sense—indeed it is unnecessary given its almost legendary status... My overall impression of the book is that the authors have done a remarkable job of bringing this classic text up to date." (British Journal of Psychiatry, 2010)
"The benchmark for all the other neuropsychiatry textbooks on the market and should be required reading for any card-carrying neuropsychiatrists (and psychiatrists) or behavioral neurologists!" (Doody's, April 2010)


New edition of this well established single-author textbook


Extensively revised by a team of five authors, yet maintains the 'feel' of the original single-author book

Comprehensive review of cognitive and behavioral consequences and the impact of clinical practice

Emphasised and updated existing case studies to illustrate clinical practice