Listen to Learn: Using American Music to Teach Language Arts and Social Studies (Grades 5-8)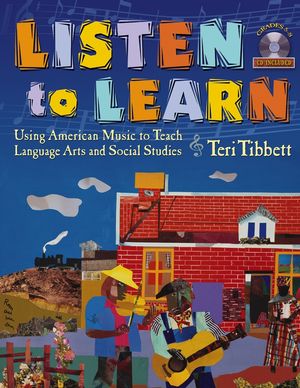 Listen to Learn: Using American Music to Teach Language Arts and Social Studies (Grades 5-8)
ISBN: 978-0-787-97254-7
Aug 2004, Jossey-Bass
464 pages
Description
Listen to Learn, with its companion music CD, offers teachers a dynamic way to use the history of American music to engage their students (grades 5-8) in reading, writing, social studies, geography, music, and multicultural lessons and activities. The book traces the colorful musical traditions of diverse cultures including early Native music, folk, blues, classical, jazz, country, Tejano, salsa, rock, and rap. The CD features authentic music from such American musical greats as Louis Armstrong, Woody Guthrie, Mahalia Jackson, Lead Belly, Lydia Mendoza, and many more. Listen to Learn features a variety of fascinating activities that encourage students to write about their favorite music, investigate songs as poetry, research the lives of famous musicians, explore family musical traditions, research how instruments make sounds, plot record charts, and much more. Designed in a handy, lay-flat format for easy reproduction, Listen to Learn is divided into four major sections.
Introduction.
How to Use This Book and CD Set.
Unit One: Native American Music.
Lesson 1: Traditional Native American Singing.
Lesson 2: Traditional Native American Instruments.
Lesson 3: Native American Music Regions.
Lesson 4: Contemporary Native American Music.
Unit Two: European-American Music.
Lesson 5: Colonial Music: Sacred and Secular.
Lesson 6: Folk Music.
Lesson 7: Patriotic Music.
Lesson 8: Early Popular Music.
Lesson 9: Early Classical Music.
Lesson 10: Instruments of the Orchestra.
Unit Three: African-American Music.
Lesson 11: Music of the Slaves.
Lesson 12: Spirituals and Gospel Music.
Lesson 13: The Blues.
Lesson 14: Dance Music.
Lesson 15: Soul and Funk.
Unit Four: New American Music.
Lesson 16: Modern Popular Music.
Lesson 17: Contemporary Classical Music.
Lesson 18: Jazz.
Lesson 19: Country Music.
Lesson 20: Latin American Music.
Lesson 21: Rock Music.
Lesson 22: Rap.
Appendix: Extension Activities and Teacher Directions.
Glossary.
Bibliography.
CD Song List.
Index.