Literary Theory: A Reintroduction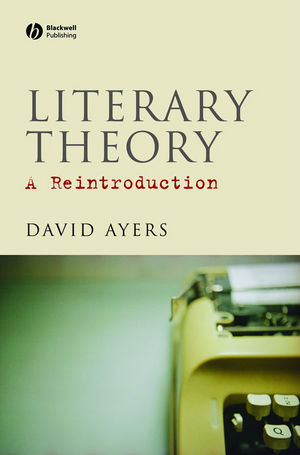 Literary Theory: A Reintroduction
ISBN: 978-1-405-13602-0
Jan 2008, Wiley-Blackwell
256 pages
Description
Literary Theory: A Reintroduction introduces the current state of theory by placing it in its social, historical, and institutional contexts.

Focuses on the period preceding the 'theory movement' of the 1970s and 1980s as well as the aftermath
Asks questions about how and why literary theory evolved in the 20th century
Discusses key figures such as F.R. Leavis, Raymond Williams, Jacques Derrida, Michel Foucault, Judith Butler and Alain Badiou
Examines the influence of a wide range of topics in the field, from the Cold War to the culture wars
Introduction.
1. English as a University Subject.
2. The New Criticism and Beyond.
3. Reconfiguring English Studies.
4. The Politics of Theory.
5. From Work to Text.
6. Enlightenment and Modernity.
7. PC Wars.
8. Ethics.
Notes.
Selected Bibliography.
Index
"Ayers does a superb job in tracing the many strands of theory … Well written, it displays a wealth of learning and has some beautifully modulated arguments." Times Higher Education Supplement<!--end-->


Offers an innovative introduction to modern literary theory by placing it in its social, historical, and institutional contexts

Focuses on the period preceding the 'theory movement' of the 1970s and 1980s as well as the aftermath

Asks questions about how and why literary theory evolved in the 20th century

Discusses key figures such as F.R. Leavis, Raymond Williams, Jacques Derrida, Michel Foucault, Judith Butler and Alain Badiou

Examines the influence of a wide range of topics in the field, from the Cold War to the culture wars