Literary Theory: An Anthology, 2nd Edition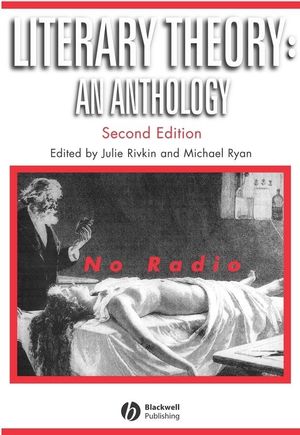 Literary Theory: An Anthology, 2nd Edition
ISBN: 978-1-405-10695-5 July 2004 Wiley-Blackwell 1336 Pages
Description
This anthology of classic and cutting-edge statements in literary theory has now been updated to include recent influential texts in the areas of Ethnic Studies, Postcolonialism and International Studies
A definitive collection of classic statements in criticism and new theoretical work from the past few decades
All the major schools and methods that make up the dynamic field of literary theory are represented, from Formalism to Postcolonialism
Enables students to familiarise themselves with the most recent developments in literary theory and with the traditions from which these new theories derive
Table of contents
Preface.
Acknowledgments.
Part One Formalisms: Russian Formalism and New Criticism.
1. Introduction: Julie Rivkin and Michael Ryan, Formalisms.
2. Boris Eichenbaum, The Formal Method.
3. Viktor Shklovsky, Art as Technique.
4. Cleanth Brooks, The Formalist Critics.
5. Cleanth Brooks, The Language of Paradox.
6. W. K. Wimsatt, The Structure of the Concrete Universal.
Part Two Structuralism, Linguistics, Narratology.
1. Introduction: Julie Rivkin and Michael Ryan, The Implied Order: Structuralism.
2. Jonathan Culler, The Linguistic Foundation.
3. Ferdinand de Saussure, Course on General Linguistics.
4. Vladimir Propp, Morphology of the Folktale.
5. Roman Jakobson, The Two Aspects of Language.
6. Claude Lévi-Strauss, Anthropology and Myth.
7. Roland Barthes, Mythologies.
8. Michel Foucault, The Archeology of Knowledge.
9. Seymour Chatman, The Structure of Narrative Transmission.
Part Three Rhetoric, Phenomenology, Reader Response.
1. Introduction: Julie Rivkin and Michael Ryan, Language and Action.
2. Edmund Husserl, Ideas.
3. Immanuel Kant, Transcendental Aesthetic.
4. Edward Corbett, Classical Rhetoric.
5. J. L. Austin, How To Do Things With Words.
6. Richard Lanham, Tacit Persuasion Patterns & A Dictionary of Rhetorical Terms.
7. Stanley Fish, Not So Much A Teaching As An Intangling.
8. Stanley Fish, Interpretive Communities.
9. John Frow, Text and System.
10. Pierre Bourdieu, Distinction.
Part Four Post-Structuralism, Deconstruction, Post-Modernism.
1. Introduction: Julie Rivkin and Michael Ryan, Introductory Deconstruction.
2. Friedrich Nietzsche, Truth and Lying in an Extra-Moral Sense.
3. Friedrich Nietzsche, The Will to Power.
4. Martin Heidegger, Identity and Difference.
5. Georges Bataille, Heterology.
6. Jacques Derrida, Differance.
7. Jacques Derrida, Of Grammatology.
8. Jacques Derrida, Semiology and Grammatology.
9. Barbara Johnson, Writing.
10. Heléne Cixous, The Newly Born Woman.
11. Jean-Francois Lyotard, The Postmodern Condition.
12. Jean Baudrillard, Simulacra and Simulations.
13. Gilles Deleuze and Felix Guattari, A Thousand Plateaus.
Part Five Pschoanalysis & Psychology.
1. Introduction: Julie Rivkin and Michael Ryan, Strangers to Ourselves—Psychoanalysis.
2. Sigmund Freud, The Interpretation of Dreams.
3. Sigmund Freud, On Narcissism.
4. Sigmund Freud, The Uncanny.
5. Sigmund Freud, Beyond the Pleasure Principle.
6. Sigmund Freud, Group Psychology and the Analysis of the Ego.
7. Jacques Lacan, The Mirror Stage as Formative of the Function of I.
8. Jacques Lacan, The Insistence of the Letter in the Unconscious.
9. Frantz Fanon, The Negro and Psychopathology.
10. Nancy Chodorow, Preoedipal Gender Configurations.
11. Bessel van der Kolk and Alexander McFarlane, The Black Hole of Trauma.
Part Six Historicisms.
1. Introduction: Julie Rivkin and Michael Ryan, Writing the Past.
2. Raymond Williams, The Country and the City.
3. E. P. Thompson, Witness Against the Beast.
4. Michel Foucault, Discipline and Punishment.
5. Nancy Armstrong, Some Call it Fiction: On the Politics of Domesticity.
6. Louis Montrose, Professing the Renaissance.
7. Stephen Greenblatt, Shakespeare and the Exorcists.
8. Eric Sundquist, Melville, Delany, and New World Slavery.
Part Seven Political Criticism: From Marxism to Cultural Materialism.
1. Introduction: Julie Rivkin and Michael Ryan, Starting With Zero.
2. G. W. F. Hegel, Dialectics.
3. Karl Marx, Grundrisse.
4. Karl Marx, The German Ideology.
5. Karl Marx, Wage Labor and Capital.
6. Karl Marx, Capital.
7. Antonio Gramsci, Hegemony.
8. Mikhail Bakhtin, Discourse in the Novel.
9. Michail Bakhtin, Rabelais and his World.
10. Louis Althusser, Ideology and Ideological State Apparatuses.
11. Pierre Macherey, Theory of Literary Production.
12. Slavoj Zizek, The Sublime Object of Ideology.
13. Antonio Negri, Difference and the Future.
14. Alan Sinfield, Cultural Materialism, Othello and the Politics of Plausibility.
Part Eight Feminism.
1. Introduction: Julie Rivkin and Michael Ryan, Feminist Paradigms.
2. Gayle Rubin, The Traffic in Women.
3. Luce Irigaray, The Power of Discourse and the Subordination of the Feminine.
4. Luce Irigaray, Women on the Market.
5. Sandra Gilbert and Susan Gubar, Madwoman in the Attic.
6. Coppélia Kahn, The Hand That Rocks the Cradle.
7. Gayatri Chakravorty Spivak, Three Women's Texts and a Critique of Imperialism.
8. Audre Lorde, Age, Race, Class, and Sex.
9. Geraldine Heng, A Great Way to Fly: Nationalism, the State, and the Varieties of Third world Feminism.
Part Nine Gender Studies.
1. introduction: Julie Rivkin and Michael Ryan, Contingencies of Gender.
2. Gayle Rubin, Sexual Transformations.
3. Michel Foucault, The History of Sexuality.
4. Judith Butler, Performative Acts and Gender Constitution.
5. Eve Kosofsky Sedgwick, Epistemology of the Closet.
6. Michael Moon, A Small Boy and Others.
7. Judith Halberstam, Female Masculinity.
Part Ten Ethnic Literary & Cultural Studies, Critical Race Theory.
1. Introduction: Julie Rivkin and Michael Ryan, Situating Race.
2. Ian Haney-López, The Social Construction of Race.
3. Shelley Fisher Fishkin, Interrogating Whiteness.
4. Henry Louis Gates, The Blackness of Blackness: A Critique of the Sign and the Signifying Monkey.
5. Toni Morrison, Playing in the Dark.
6. Gloria Anzaldua, Borderlands/ La Frontera.
7. Lisa Lowe, Heterogeneity, Hybridity, Multiplicity: Marking Asian-American Differences.
8. Robert Dale Parker, Tradition, Invention, and Aesthetics.
Part Eleven Colonial, Post-Colonial, & Transnational Studies.
1. Introduction: Julie Rivkin and Michael Ryan, English Without Shadows, Literature on a World Scale.
2. Dennis Walder, History.
3. C. C. Eldridge, The Revival of the Imperial Idea.
4. Ania Loomba, Situating Colonial and Post-Colonial Studies.
5. Edward Said, Austen and Empire.
6. Ngugi wa Thiong'o, Decolonising the Mind.
7. Edward Kamau Braithwaite, English in the Caribbean.
8. Homi Bhabha, Signs Taken for Wonders.
9. Anne McClintock, The Angel of Progress.
10. Chidi Okonkwo, Casualties of Freedom.
11. Alan Lawson, Proximities.
12. Jamaica Kincaid, A Small Place.
Part Twelve Cultural Studies.
1. Introduction: Julie Rivkin and Michael Ryan, The Politics of Culture.
2. Walter Benjamin, Work of Art in the Age of Mechanical Reproduction.
3. Max Horkheimer and Theodor Adorno,The Culture Industry as Mass Deception.
4. Michel de Certeau, The Practice of Everyday Life.
5. Dick Hebdige, Subculture: the Meaning of Style.
6. John Fiske, Culture, Ideology, Interpellation.
7. John Fiske, Television Culture.
8. Adam Krims, Rap Music and the Poetics of Identity.
Index
What's New
A definitive collection of classic statements in criticism and new theoretical work from the past few decades
All the major schools and methods that make up the dynamic field of literary theory are represented, from Formalism to Postcolonialism
Enables students to familiarise themselves with the most recent developments in literary theory and with the traditions from which these new theories derive
The second edition includes the most recent influential texts from the fields of Ethnic Studies, Postcolonialism and International Studies