Literary Theory: An Introduction, 2nd Revised Edition, Anniversary Edition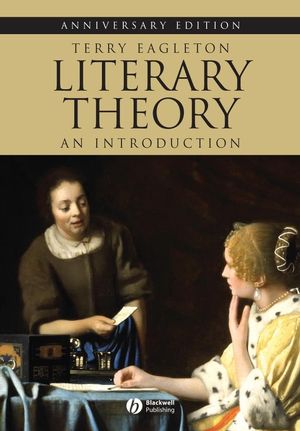 Literary Theory: An Introduction, 2nd Revised Edition, Anniversary Edition
ISBN: 978-1-118-30629-1
Nov 2011, Wiley-Blackwell
248 pages
Description
A quarter of a century on from its original publication, Literary Theory: An Introduction still conjures the subversion, excitement and exoticism that characterized theory through the 1960s and 70s, when it posed an unprecedented challenge to the literary establishment. Eagleton has added a new preface to this anniversary edition to address more recent developments in literary studies, including what he describes as "the growth of a kind of anti-theory", and the idea that literary theory has been institutionalized. Insightful and enlightening, Literary Theory: An Introduction remains the essential guide to the field.



25th Anniversary Edition of Terry Eagleton's classic introduction to literary theory

First published in 1983, and revised in 1996 to include material on developments in feminist and cultural theory

Has served as an inspiration to generations of students and teachers

Continues to function as arguably the definitive undergraduate textbook on literary theory

Reissue includes a new foreword by Eagleton himself, reflecting on the impact and enduring success of the book, and on developments in literary theory since it was first published
Preface to the Anniversary Edition.
Preface to the Second Edition.
Preface to the First Edition.
Introduction: What is Literature?.
1. The Rise of English.
2. Phenomenology, Hermeneutics, Reception Theory.
3. Structuralism and Semiotics.
4. Post-Structuralism.
5. Psychoanalysis.
Conclusion: Political Criticism.
Afterword.
Notes.
Bibliography.
Index
"Before
Literary Theory,
there had been no textbooks for English. There had been guides to particular authors, and even periods, but no single one book that could claim to be "essential reading".... Eagleton's book—which clearly understands the discipline and institutions of English—offered this." (
Times Literary Supplement
, April 2009)
"This book shaped the reception of theory in Britain for a generation." (Times Higher Education Supplement)

Praise for the First Edition of Literary Theory

"Literary Theory has the kind of racy readability that one associates more often with English critics who have set their faces resolutely against theory ... It's not just a brilliant polemical essay, it's also a remarkable feat of condensation, explication, and synthesis ... Stimulating and entertaining." (Sunday Times)
"This concise and lucid volume offers a satisfying survey of all the major theories, from structuralism in the 1960s to deconstruction today, that have made academic criticism both intriguing and off-putting to the outsider." (New York Times Book Review)
"A polemical, amusing and very informative introduction ... indispensable." (Jonathan Culler)
"The best handbook to those arcane ics and isms, both for academy members and for any civilians who, having heard the distant roar of professorial cannons, might wonder what the skirmishing is about." (Voice Literary Supplement)


25th Anniversary Edition of Terry Eagleton's classic introduction to literary theory

First published in 1983, and revised in 1996 to include material on developments in feminist and cultural theory

Has served as an inspiration to generations of students and teachers

Continues to function as arguably the definitive undergraduate textbook on literary theory

Reissue includes a new foreword by Eagleton himself, reflecting on the impact and enduring success of the book, and on developments in literary theory since it was first published

Eagleton is a prolific writer, literary critic and public intellectual, most famous for his work in Marxist literary theory, and his lively writing style