Literary Theory Today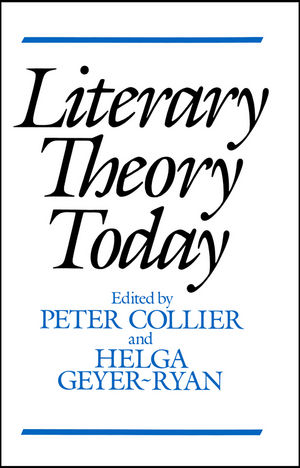 Literary Theory Today
ISBN: 978-0-745-60972-0 April 1992 Polity 264 Pages
Description
This volume assesses the current state of Literacy Theory and examines the issues to be addressed by future research. The essays cover established theoretical perspectives and debates and also examine the changing face of literacy studies in the modern world. They include: Essays on deconstruction; New historicism: Reception theory; Sociology and literature; Modernism and post modernism; Marxism and literature; Feminist literary theory; Psychoanalytic literary theory, and the relevance of race and imperialism to the study of literature.

The contributors are distinguished, internationally renowned critics, and are widely recognized as leaders in their fields. They include Homi Bhabha, Peter Burger, Stephen Greenblatt, Hans Robert Jauss, Ann Jefferson, Barbara Johnson, Sarah Kofman, Julia Kristeva, Michael Riffaterre, Elaine Showalter, Gayatri Chakravorty Spivak, Robert Weimann and Albrecht Wellmer.

This outstanding volume will be of great interest to students and academics in literature and modern languages, linguistics, philosophy, cultural studies and women's studies.
Introduction:.
Beyond Postmodernism: Peter Collier and Helga Geyer-Ryan.
Part I:.
1. The Surprise of Otherness: Barbara Johnson.
2. The Problem of Aesthetic Value: Peter Burger.
3. Metaphysics at the Moment of its Fall: Albrecht Wellmer.
Part II:.
4. The Theory of Reception: Hans Robert Jauss.
5. The New Historicism: Stephen Greenblatt.
6. Text, Author-Function and Society: Robert Weimann.
Part III:.
7. Undecidability as Hermeneutic Constraint: Michael Riffaterre.
8. Literariness, Dominance and Violence in Formalist Aesthetics: Ann Jefferson.
9. Conversions: Sarah Kofman.
10. Identification and the Real: Julia Kristeva.
Part IV:.
11. Feminism and Literature: Elaine Showalter.
12. Articulating the Archaic: Homi K Bhabha.
13. Post-structuralism, Marginality, Post-Coloniality and Value: Gayatri Chakravorty Spivak.
Index
'A powerful and wide-ranging publication.'
French Studies
'One rises from a reading of this volume with a clear sense of the impressive range and catholicity of contemporary literary theory.' The Modern Language Review
'This book assembles a distinguished cast of contributors to consider what the problems and possibilities of literary theory today might also entail for Literary theory tomorrow. The volume reflects one of those rare occasions when the convention of essays-by-diverse-hands succeeds in maintaining a genuinely open and plural perspective on the issues it confronts.' Christopher Prendergast
'Since most of the contributors of this volume are internationally recognized figures representing a variety of disciplines, this book will likely be of interest to a wide range of literary and cultural theorists.' David B. Downing, Literature and History
* New in paperback. * After the success of the hardback, this volume will be used on many courses covering literary theory and criticism. * This is a world-class statement on the current state and future of literary theory.